European Insolvency Proceedings: Commentary on Regulation (EU) 2015/848 of the European Parliament and of the Council of 20 May 2015 on Insolvency Proceedings (Recast)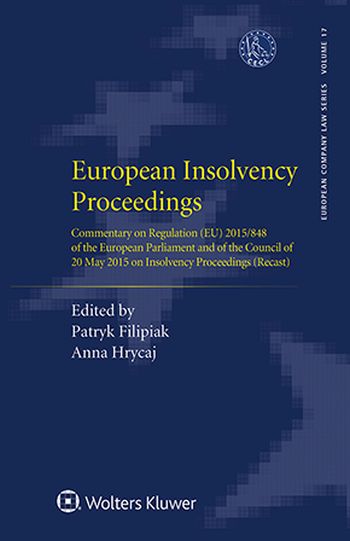 ISBN13: 9789403534107
Published: October 2021
Publisher: Kluwer Law International
Country of Publication: Netherlands
Format: Hardback
Price: £221.00

Despatched in 10 to 12 days.
European Insolvency Proceedings is a detailed and in-depth description of international jurisdiction, recognition and universal and territorial effects of insolvency proceedings with a clear focus on how to solve specific problems that arise in insolvency cases with a cross-border element, including aspects such as jurisdiction, applicable law, recognition and enforceability of judgments and coordination of a group of companies' insolvencies. In the European Union, the effectiveness of judicial protection granted to a business or consumer in crisis depends on the extent and manner in which court rulings in bankruptcy and restructuring cases are recognised in all Member States. This article-by-article commentary on Regulation (EU) 2015/848 provides expert guidance through the entire course of insolvency proceedings, with a number of valuable comments and analyses concerning the manner and form of exercising one's rights by foreign creditors.
What's in this book:
For any party instituting an insolvency proceeding in an EU Member State, the commentary provides such detailed guidance as the following:
identifying the appropriate internationally competent court for filing
terms pursuant to which a judgment can be recognised
duties of an insolvency practitioner (IP)
IP's authority in the territory of another state
IP's obligations towards creditors in another state
rights of foreign creditors
admissibility of conducting secondary insolvency proceedings
conducting simultaneous insolvency proceedings against the same debtor
permissible forms of contact and cooperation between judges and parties to the proceedings, and conducting proceedings involving a group of companies.
How this will help you:
This practical book presenting the theoretical framework of all institutions operating within international insolvency proceedings will be welcomed by counsel to business persons conducting international activity, trustees in bankruptcy, tax advisers, court enforcement officers, academics dealing with insolvency law, banks dealing with collection of receivables, and debt collection companies. In addition, it will be of importance for research works in all Member States since it will present the theoretical framework of all institutions operating within international insolvency proceedings.