Public Companies and the Role of Shareholders: National Models Towards Global Integration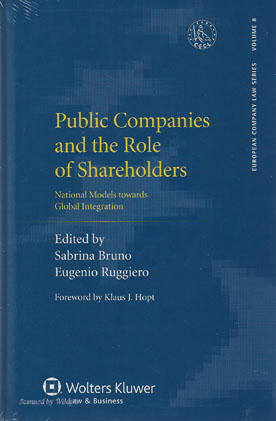 ISBN13: 9789041134233
Published: May 2011
Publisher: Kluwer Law International
Country of Publication: Netherlands
Format: Hardcover
Price: £140.00

Despatched in 7 to 9 days.
In the wake of the legality crisis that has affected a number of prominent companies in the last decade, studies have reinforced the growing conviction that the board of directors, as legally constituted in leading jurisdictions, is not able to balance the power of controlling shareholders and that of the company's executives.
The perennial issue of the dynamic between corporate ownership and management has thus taken a far-reaching new turn that tends to favour larger and more effective participation and involvement of shareholders in corporate governance.
Proceeding from the shareholder's perspective, this book examines the law of public companies in Italy, France, the United Kingdom, Germany, and the United States. Law professors from each of the five jurisdictions analyse the role of the shareholder as a member of the corporate organization and as an investor, with attention to the listing process, the size and relevance of the securities market, the ownership structure of public companies, the division of powers within the company, the role of the general meeting of shareholders, minority rights, remedies, public authorities, and takeovers.
As might be expected, the debate is quite heated, covering such topics as the following:-
how institutional investors are changing the terms of the collective action problem;
ever-increasing political and public demands for more disclosure and transparency;
conflicts of interest among controlling shareholders;
convergence of the traditional 'insider' and 'outsider' financial systems;
internal agreements protecting the position of minority shareholders; and
directors' remuneration.
The authors describe a number of possible mechanisms designed both to balance directors' and managers' powers and promote efficiency – proposals that also represent a means to offer legitimacy for the modern company towards society as a whole.
This is a book that will be warmly welcomed by everyone engaged in the important debate under way on corporate responsibility and governance.