House of Lords 1996-2009: Lord Hope's Diaries Volume IV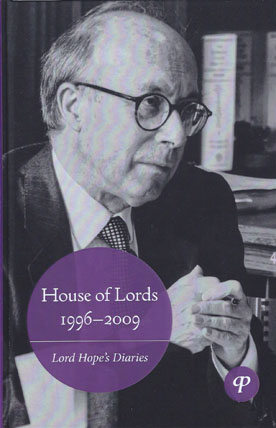 ISBN13: 9781904968962
Published: January 2019
Publisher: Lord Hope (Avizandum Publishing)
Country of Publication: UK
Format: Hardback
Price: £28.00

Lord Hope's Diaries is the title of a series of books which covers the whole of Lord Hope's career at the Scottish Bar and as a Judge in Edinburgh and then in London. It provides a unique and fascinating insight into a way of life in the law that has now passed into history.
This was a time when the legal profession in all its aspects was much less closely regulated than it is now. As a result Lord Hope's career unfolded in a way that could not be repeated today, as he progressed direct from the Bar to the most senior position in the Scottish judiciary as Lord President, from there to the House of Lords as a Lord of Appeal in Ordinary and then to the newly established UK Supreme Court as its first Deputy President.
This, the fourth volume of Lord Hope's Diaries, describes David Hope's work in London as one of the two Scottish Lords of Appeal in Ordinary. During this time he sat as a member of the Appellate Committee of the House of Lords, and of the Judicial Committee of the Privy Council.
There are vivid descriptions of issues that the Law Lords had to decide, and of how they were resolved. These are set against the background of Lord Hope's other life as a life peer in the House of Lords. This was also a period of reform. First, there was the removal of all but a few of the hereditary peers. Then it was announced that the Law Lords too were to leave, as there was to be a new Supreme Court.
It was an uneasy period, as much of the planning for the creation of that court had to be worked out by the Law Lords themselves. The volume concludes with the delivery of their last judgments in the House, ending the unique life that they had led there.