Dean of Faculty 1986-1989: Lord Hope's Diaries Volume II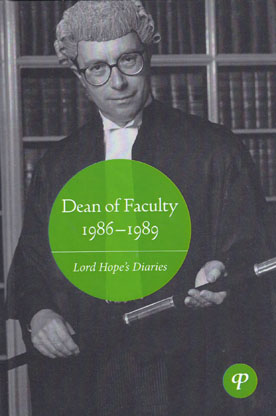 ISBN13: 9781904968894
Published: April 2018
Publisher: Lord Hope (Avizandum Publishing)
Country of Publication: UK
Format: Hardback
Price: £28.00

Lord Hope's Diaries is the title of a series of books which covers the whole of Lord Hope's career at the Scottish Bar and as a Judge in Edinburgh and then in London. It provides a unique and fascinating insight into a way of life in the law that has now passed into history.
This was a time when the legal profession in all its aspects was much less closely regulated than it is now. As a result Lord Hope's career unfolded in a way that could not be repeated today, as he progressed direct from the Bar to the most senior position in the Scottish judiciary as Lord President, from there to the House of Lords as a Lord of Appeal in Ordinary and then to the newly established UK Supreme Court as its first Deputy President.
This book, the second in a series of three, covers David Hope's time as the Dean of the faculty of Advocates. As Dean he represented the Faculty at home and abroad, while also maintaining a busy practice at the Bar.
Among the challenges he faced was persuading the Faculty to accept reforms to enable it to compete effectively with the Law Society of Scotland, which was pressing hard for the right of audience in the Supreme Courts to be extended to solicitors.
Reform of the legal profession was also government policy, so the Faculty had to engage in public relations to a much greater extent than it had done previously. Detailed accounts are given of events within the Faculty, whose membership has now grown far beyond what it was during this period, and of visits to France, Belgium, the Netherlands and Canada.
The personalities of those with whom he dealt play a major part in the narrative.