Formation and Variation of Contracts: The Agreement, Formalities, Consideration and Promissory Estoppel 2nd ed with 1st Supplement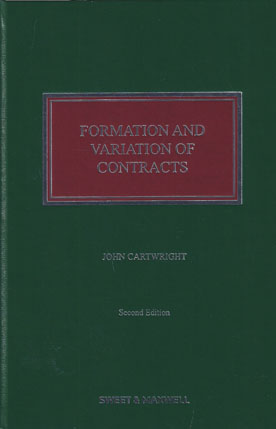 ISBN13: 9780414083592
Published: September 2020
Publisher: Sweet & Maxwell Ltd
Country of Publication: UK
Format: Hardback & Supplement
Price: £362.00

Despatched in 2 to 4 days.
This book provides a detailed account of the law relating to the formation and variation of contracts. This includes pre-contractual negotiations, offer & acceptance, formalities, consideration and promissory estoppel.
In this second edition, Professor John Cartwright considers all the major developments in case law in these areas, including the recent decision of the Supreme Court in MWB Business Exchange Centres Ltd v Rock Advertising Ltd (2018) on the enforceability of 'no oral modification' clauses.
Key features:
Draws together in single volume key issues relating to the formation and variation of contracts, focusing on the rules for their existence and validity
Brings together topics which are of fundamental importance to practitioners advising on the negotiation or validity of contracts, but on which there is no up-to-date specialist work
Traces the continuing development of the rules, as a response to changes within the English law of contract and to learn from developments being made in other legal systems
Highlights areas of contract law where there is likely to be significant argument about possible development in the coming years
Provides a perspective on the rules for the formation of contracts from an international and comparative dimension
Includes discussion throughout the book of difficult issues relating to contract formation as they arise in practice
Part I is devoted to pre-contractual negotiations (including remedies where negotiations fail to reach agreement) and finding the agreement through offer and acceptance
Part II is devoted to formalities, both in general and in contract in particular, including contracts for the sale of land, consumer contracts, contracts of guarantee and deeds
Part III is devoted to the requirement of consideration (which gives contract its character as a 'bargain' in the common law), both in the formation of a contract, and in the variation of an existing contract
Part IV is devoted to promissory estoppel, both its traditional role in the modification of a contract and its potential to develop in English law (noting how other common law jurisdictions such as the US and Australia have developed it)