Morgan and Burden on IT Contracts 9th ed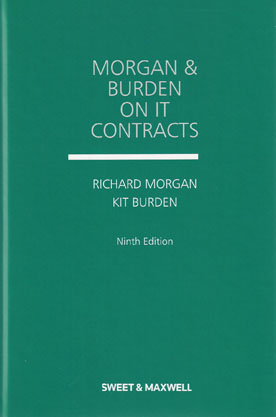 ISBN13: 9780414028586
Published: December 2013
Publisher: Sweet & Maxwell Ltd
Country of Publication: UK
Format: Hardback & CD-ROM
Price: Out of print

Formerly called Morgan and Burden on Computer Contracts, now IT Contracts, this classic text presents a highly practical analysis of contracts relevant to the purchase and use of computers and computer services.
Based around an extensive set of precedents it is an ideal drafting tool for all those requiring up-todate guidance on an area recently subject to profound change.
The new 9th edition reflects developments in technology such as cloud computing and ongoing changes in the nature of IT procurement and contracting.
Supplies over 200 pages of precedent material
Provides detailed drafting guidance on each contract
Covers hardware, software and computer services
Deals with cloud computing and the growing importance of web-based services
Examines the impact of consultancy and outsourcing on IT contracts
Covers package contracts where several products and services are sold, licensed and supplied from a single source under an umbrella agreement
Discusses privacy legislation in the contractual context
Incorporates all recent legislation, case law and changes to procurement regulations
Accompanied by a CD-ROM containing all the precedents – for rapid drafting and amendment