Blackstone's Criminal Practice 2023 (Book, 3 Supplements & eBook Pack)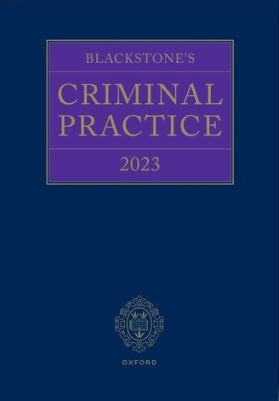 ISBN13: 9780192870278
Published: October 2022
Publisher: Oxford University Press
Country of Publication: UK
Format: Hardback, 3 Supplements + eBook
Price: £395.00

Led by Professor David Ormerod CBE, QC (Hon) and David Perry QC, Blackstone's Criminal Practice brings together an expert team of authors with a commitment to deliver a work which offers the right coverage for criminal practice and authoritative statements of the law in a practical and accessible format. With an accompanying supplement containing essential primary materials and commentary updates throughout the year, and access to regular web updates and the additional analysis provided by Blackstone's Briefings, you can rely on Blackstone's Criminal Practice to be your constant companion.
The 2023 edition has been meticulously revised to provide extensive coverage of all new legislation, case law, Sentencing Guidelines, and Criminal Procedure Rules 2020, and Practice Directions.
Supplement 1, which contains the full updated text of the Criminal Procedure Rules, the Criminal Practice Directions, and the Sentencing Guidelines, as well as the key PACE Codes, Attorney General's Guidelines, and the Code for Crown Prosecutors, is included with this pack. Two further cumulative supplements, published in early and mid-2023, provide key updates to the main work, as well as providing the latest updates to the Sentencing Guidelines, Criminal Procedure Rules and Practice Directions, as well as the main PACE codes and other guidelines, are included in the purchase price and will be sent when published
The digital eBook edition, on OUP LawReader, offers instant online and offline access, full text searching, extensive links from citations to judgements on BAILII and ICLR, and tools to annotate, highlight and print content. The latest release of OUP LawReader allows users to create their own links to Blackstone's content in the digital edition and share them, or embed them in other documents, with just a few clicks. Purchasers of this digital + hardcopy pack will receive a unique code on a white postcard included with the hardcopy book. This code will provide purchasers with access to download the digital version to their desktop, laptop, iOS and Android devices.
New to this Edition:
Legislative developments including the Judicial Review and Courts Act 2022; the Police, Crime, Sentencing and Courts Act 2022; the Economic Crime (Transparency and Enforcement) Act 2022; and Nationality and Borders Act 2022
Coverage of key cases in Part A (Criminal Law) includes Pwr v DPP in the Supreme Court on strict liability and Grant on overwhelming supervening events in joint ventures
Updates on offences in Parts B and C include Hunter and Smith on conspiracy to defraud; Nica on unlawful act manslaughter; and Bani on unlawful immigration
The latest updates on Part D (Procedure) include AG v Crosland on contempt in the Supreme Court; AAD and AAM on prosecutions of victims of trafficking or slavery; Neale v DPP on coronavirus regulations; Archer v MPC on youth detention after charge; R (Joseph) v DPP on victim's right of review; Mansfield v DPP on abuse of process in the magistrates' courts; and Asif v Ditta on private prosecutions
Cases covered in Part E (Sentencing) include Limon on sentencing in historical sex cases; Jex on committal for sentence; Nugent and Fleming on Sentencing Council guidelines; Mohammed on determining the age of offenders; Dale on reduction for guilty pleas
Updated case coverage in Part F (Evidence) includes Dabycharun on lies and evidence to do with the facts of the alleged offence; AAD and BRM on expert witnesses; Abdi on gangs and bad character evidence; BQC on written directions and cross-admissibility; Spraggon, Inglis, Roberts and Henry on hearsay; Bonsu on silence; and Belhaj-Farhat on DNA
The supplement packaged with the main work includes: The Criminal Procedure Rules 2020 (as amended and in force from 3 October 2022), integrated with the Criminal Practice Directions 2015 as amended, and the Sentencing Guidelines, including the new guidelines on Sexual Offences, Terrorism, Burglary, Firearms Importation, Modern Slavery, and Trade Marks
New expert contributors, Jessica Jones, for the section on Offences Affecting Security, and Nick Dent, for the section on The Decision to Prosecute and Diversion
Also available as:
Blackstone's Criminal Practice 2023 (with Supplement 1 only)
and
Blackstone's Criminal Practice 2023 (with Supplements 1, 2 & 3)