International Contracting: Law and Practice 5th ed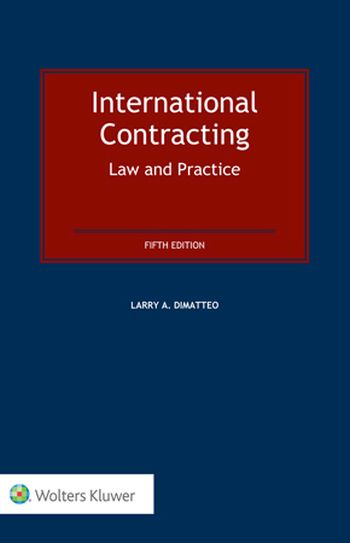 ISBN13: 9789403528342
Published: November 2021
Publisher: Kluwer Law International
Country of Publication: The Netherlands
Format: Paperback
Price: Price on Application

International Contracting, currently in its fifth edition, elaborates on issues discussed in the earlier edition, along with new topics that continue to redefine the researching, drafting, and execution of international contracts. For over a decade, this treasured guide has served practitioners handling the legal ramifications of international contracting projects.
This edition encompasses all the exceptional features of earlier editions, including analysis of key contract issues unique to various types of contracting, common contract clauses, contract checklists, insights gleaned from actual cases and arbitral proceedings, and a distinct explanation of the principles of good contract drafting. The major relevant international conventions, model laws, pertinent national laws, legal guides, and other documents and instruments are all covered, with primary texts provided in the appendices.
What's in this book:
Some of the new issues and topics covered include:
new potential causes of force majeure and hardship (pandemics and Brexit)
review of Incoterms 2020
new clauses covered (antislavery, exclusion, interpretation, no-waiver, subcontracting, sustainability clauses, among others)
rise of new international commercial courts
Legaltech, smart contracts, and artificial intelligence ethics
implementation of technology in legal practice
enforceability of penalty clauses
Internet sales and agency contracts
long-term contracts and goodwill compensation
data protection and the General Data Protection Regulation
alliance, collaboration, and cooperation agreements
noncompete and nonsolicitation clauses
e-mail disclaimers, and
separation and release agreements
How this will help you:
The book acts as a single-volume reference in the negotiating and drafting of international contracts and furnishes expert insights regarding the reasonableness of many contract clauses and the likelihood of their enforcement in a foreign jurisdiction. This book, an adept combination of contract theory and contract practice, continues to provide guidance to law practitioners and students alike.