Schwarz on Tax Treaties 6th ed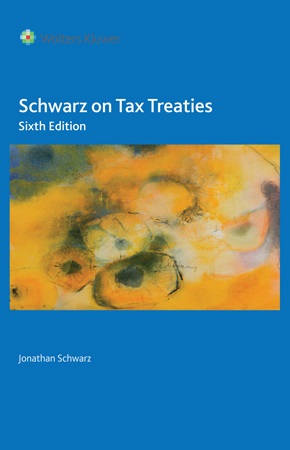 ISBN13: 9789403526300
Published: October 2021
Publisher: Kluwer Law International
Country of Publication: UK
Format: Hardback
Price: £187.00

Schwarz on Tax Treaties, now in its sixth edition, is the definitive analysis of tax treaties from United Kingdom and Irish perspectives and provides in-depth expert analysis of the interpretation and interaction of those treaty networks with not only the European Union and international law but also their own tax rules, administrative law and constitutional rules whose variations reflect domestic values of each society. Thus, treaties need to be seen both in their international context and the wider legal systems of contracting states.
What's in this book:
This edition significantly develops the earlier work with enhanced commentary and is updated to include the latest UK and Irish domestic law and treaty developments, international and EU law, including:
Covered Tax Agreements modified by the BEPS Multilateral Instrument;
judicial decisions of Ireland, the UK and foreign courts on UK and Irish treaties;
Digital Services Tax;
treaty binding compulsory arbitration;
Brexit and the EU–UK Trade and Cooperation Agreement;
taxpayer rights in exchange of information;
taxpayer rights in EU cross-border collection of taxes;
attribution of profits to permanent establishments; and
EU DAC 6 Disclosure of cross-border planning.
Case law developments including:
UK Supreme Court in Fowler v HMRC;
Indian Supreme Court in Engineering Analysis Centre of Excellence Private Limited and Others v CIT;
Australian Full Federal Court in Addy v CoT;
French Supreme Administrative Court in Valueclick;
English Court of Appeal in Irish Bank Resolution Corporation v HMRC; JJ Management and others v HMRC;
United States Tax Court in Adams Challenge v CIR;
UK Tax Tribunals in Royal Bank of Canada v HMRC; Lloyd-Webber v HMRC; Esso Exploration and Production v HMRC; Glencore v HMRC; McCabe v HMRC; Padfield v HMRC; Davies v HMRC; Uddin v HMRC;
English High Court in Minera Las Bambas v Glencore; Kotton v First Tier Tribunal; and
CJEU in N Luxembourg I, and others (the 'Danish beneficial ownership cases'); État belge v Pantochim;
College Pension Plan of British Columbia v Finanzamt München; HB v Istituto Nazionale della Previdenza Sociale.