Supervenience and Normativity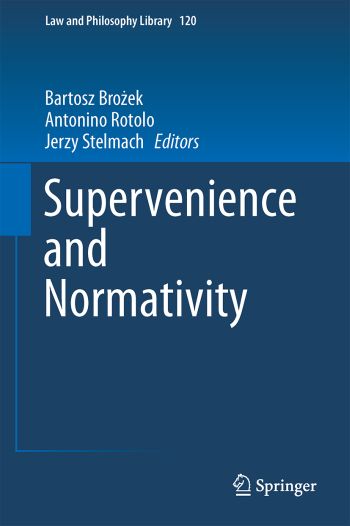 ISBN13: 9783319610450
Published: September 2017
Publisher: Springer-Verlag
Country of Publication: Switzerland
Format: Hardback
Price: £99.99

Despatched in 12 to 14 days.
The present collection represents an attempt to bring together several contributions to the ongoing debate pertaining to supervenience of the normative in law and morals and strives to be the first work that addresses the topic comprehensively. It addresses the controversies surrounding the idea of normative supervenience and the philosophical conceptions they generated, deserve a recapitulation, as well as a new impulse for further development. Recently, there has been renewed interest in the concepts of normativity and supervenience.
The research on normativity - a term introduced to the philosophical jargon by Edmund Husserl almost one hundred years ago - gained impetus in the 1990s through the works of such philosophers as Robert Audi, Christine Korsgaard, Robert Brandom, Paul Boghossian or Joseph Raz. The problem of the nature and sources of normativity has been investigated not only in morals and in relation to language, but also in other domains, e.g. in law or in the context of the theories of rationality. Supervenience, understood as a special kind of relation between properties and weaker than entailment, has become analytic philosophers' favorite formal tool since 1980s. It features in the theories pertaining to mental properties, but also in aesthetics or the law.
In recent years, the 'marriage' of normativity and supervenience has become an object of many philosophical theories as well as heated debates. It seems that the conceptual apparatus of the supervenience theory makes it possible to state precisely some claims pertaining to normativity, as well as illuminate the problems surrounding it.