Shareholder Activism in the UK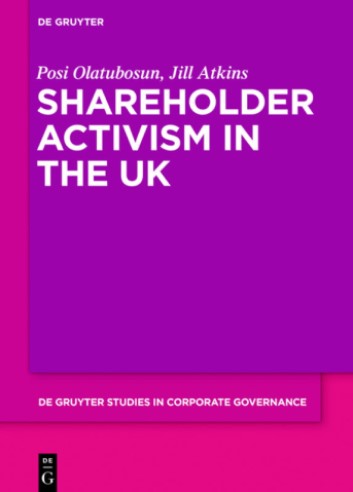 ISBN13: 9783110646573
To be Published: July 2022
Publisher: De Gruyter Oldenbourg
Country of Publication: Germany
Format: Hardcover
Price: £86.95

Shareholder activism is not a totally new phenomenon in the UK as there were historical suggestions of owners' engagements in the era of chartered companies (pre-incorporation period). There have also been many evidences of unconventional and uncoordinated shareholder engagement techniques especially by minority shareholders after the Second World War up to 2006 when the 2006 Companies Act recognised the need to make it easier for shareholders to present resolutions at general meetings. These developments, alongside various deliberate actions by government and international organisations like UNPRI in increasing shareholder engagement, together with other new developments like integrated reporting systems, responsible investing, and climate change, have given rise to various forms of activism which have not been documented and analysed by previous writers.
This book discusses the consequences of these historical developments and explores the various theoretical perspectives that have shaped shareholder engagement, shareholder activism gaps, motivations, its forms and effects, and comparative shareholder activism based on practice from other jurisdictions. These topics are fully discussed and analysed from a critical perspective.
Shareholder resolutions submitted in the UK between 2007 and 2017 are also analysed, and this demonstrates the emerging powers and the conflicted roles of proxy advisors, social investors and other influential investors such as UKSA and ShareSoc in the UK investment chain. Other emerging issues such as the usefulness of analysis of analyst type investors meetings are also critically discussed.
The only research-based book to focus specifically on shareholder activism in the UK.
Provides a comparative analysis of shareholder activism from other parts of the world.