So You Think You're An Ethical Solicitor? The new SRA Standards & Regulations in Action 2nd ed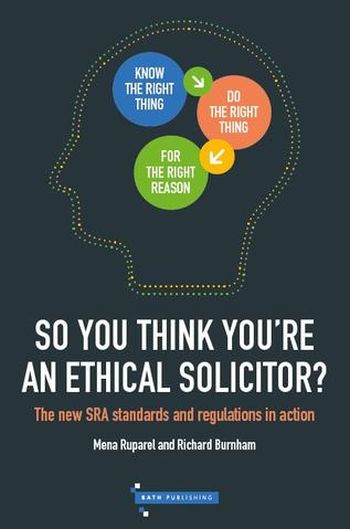 ISBN13: 9781916431577
Published: April 2020
Publisher: Bath Publishing
Country of Publication: UK
Format: Paperback
Price: £30.00

The Solicitors Regulation Authority has made ethical practice a cornerstone of its regulatory and competence training regime. Coupled with the risks of adverse publicity and the perils of social media use, it is clear that it has never been more critical that practising solicitors, and those training to join the profession, understand how they should think and act ethically - in both their professional and personal lives.
The 2nd edition of this unique book explains what ethical legal practice means in daily life and how that fits with the new SRA regime. It is not a strict law book. Instead it uses a wealth of real world examples, hypothetical scenarios and illustrations to ground the SRA requirements firmly within the tricky situations legal practitioners encounter every day. This edition is enhanced with a new chapter on the ethics of using lawtech in your practice, a minefield especially when using AI to help decision-making. In doing so it not only helps you minimise the risks of an investigation (or worse) but also helps you become a more confident practitioner when faced with potential ethical traps.
Written in a straightforward approachable style, with colourful diagrams and flowcharts to illustrate the key messages, it also covers the evolving use of social media, legal technology and ADR. All this makes the book essential reading for solicitors, trainees, law firm staff and law students everywhere and at every level of seniority.