A Practical Guide to The Liberty Protection Safeguards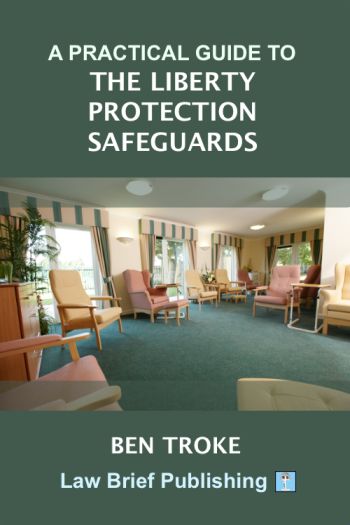 ISBN13: 9781913715656
Published: February 2022
Publisher: Law Brief Publishing
Country of Publication: UK
Format: Paperback
Price: Price on Application

To what extent can arrangements be made (placing someone in a care home against their wishes, for example) in the best interests of someone who cannot make the relevant decisions for themselves which amount to a deprivation of their liberty, and how should that be scrutinised and authorised to protect their human rights?
The current Deprivation of Liberty Safeguards (DOLS) system, in place since 2009, has long been controversial, and has been overwhelmed since a Supreme Court Judgment in 2014 expanded the definition of what "deprived of liberty" means, and massively increased the number of cases that the system had to deal with. Initially due for implementation in October 2020, we now expect the Code of Practice and Regulations to support the new "Liberty Protection Safeguards" (LPS) to be finalised throughout 2021, ready for implementation in April 2022, replacing DOLS entirely.
The new LPS system will bring significant changes, including:
Application to a wider group of people (including 16-17 year olds), and to all settings (rather than being limited to care homes and hospitals)
New criteria to justify deprivation of liberty, and a more streamlined process of scrutiny and authorisation for this, including new roles and responsibilities for NHS Hospital Trusts and CCGs, sharing the burden currently mostly held by local authorities
A new Approved Mental Capacity Professional (AMCP) role, though this independent scrutiny will only be available in certain situations, rather than the independent Best Interests Assessor role previously available to all
Crucially, the right to appeal to court to challenge any deprivation of liberty, and non-means tested legal aid for this, will remain.
This book will look at:
The background and context to the law on deprivation of liberty
Article 5 of the European Convention of Human Rights
The Bournewood case and the birth of DOLS
Cheshire West and the definition of a deprivation of liberty
The Law Commission's review of DOLS and the evolution of the LPS
The new LPS scheme in detail, in principle and practice
Consequences and compensation for an unlawful DoL