Housing Possession Duty Desk: a practical guide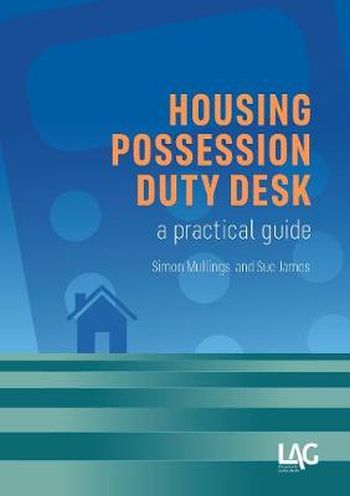 ISBN13: 9781913648169
Published: March 2021
Publisher: Legal Action Group
Country of Publication: UK
Format: Paperback
Price: £25.00

As legal aid shrinks and housing lawyers become scarce, it is at the door of the court where most people now receive advice and assistance on their housing case. Duty advisers are faced with the challenge of keeping a roof over people's heads. Clients are often distressed and it is necessary to build trust, marshal the facts, apply the law, negotiate, and then if no agreement is reached, be prepared to fight the case before a judge. All in 20 minutes.
Housing Possession Duty Desk is the essential guide in your toolkit on the frontline of defending possession proceedings. For experienced duty advisers this will be a guide through the change in possession proceedings - now known as the 'Overall Arrangements' as well as a useful reference book and aide memoire. For those embarking on duty representation for the first time, this handbook will provide the support to be a fearless advocate for those who face losing their home.
While Defending Possession Proceedings is the definitive guide to this area of law, Housing Possession Duty Desk is its new practical companion volume focusing on tactical and procedural tips to navigate the daily demands of the duty desk.