Under the Wig: A Lawyer's Stories of Murder, Guilt and Innocence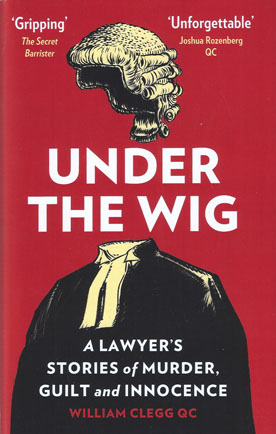 ISBN13: 9781912454082
Published: October 2018
Publisher: Canbury Press
Country of Publication: UK
Format: Hardback
Price: £16.99

How can you speak up for someone accused of a savage murder? How do you sway a jury? Or get a judge to drop a case?
Meet London's top murder case lawyer as he meets clients in prisons, confronts witnesses in packed courts — and frees innocent people jailed for decades.
In this vivid memoir, William Clegg QC revisits his most intriguing trials, from the acquittal of Colin Stagg to the murder of Jill Dando, and from Britain's first Nazi war criminal to the man given life because of an earprint.
All the while he lays bare the secrets of his profession, from the rivalry among barristers to the nervous moments before a verdict — and how our right to a fair trial is now in peril. Switch off the TV dramas and plunge into the criminal law in action.
Well-known cases featured:-
The Murder of Rachel Nickell on Wimbledon Common
The Chillenden Murders (Dr Lin and Megan Russell)
The Trial of Private Lee Clegg
The Murder of Jill Dando
The first Nazi war crimes prosecution in the UK
The Murder of Joanna Yeates
The Rebekah Brooks Phone Hacking Trial