Homelessness and Allocations 11th ed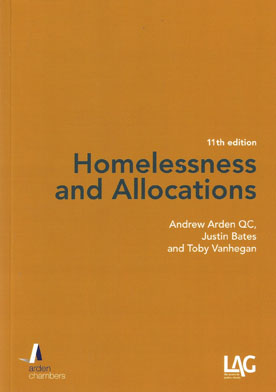 ISBN13: 9781912273027
Published: June 2018
Publisher: Legal Action Group
Country of Publication: UK
Format: Paperback
Price: Out of print

Since publication of the first edition 35 years ago, Homelessness and Allocations has established itself as the definitive guide to the rights of the homeless. It combines an unrivalled historical overview with a clear, concise and user-friendly approach to this complex area of law.
Homelessness and Allocations was first published after the Housing (Homeless Persons) Act 1977 brought new duties towards the homeless into force, since when it has recorded and analysed development of this area of the law, while Andrew Arden himself has contributed to, and helped to shape, its development acting in cases up to and including the highest courts from the earliest days of the new law to the present time.
The 11th edition has been fully updated to include:
The Homelessness Reduction Act in force
The new Code of Guidance on homelessness in England
The new Local Authority Agreement
The new Review Regulations
The new national eligibility framework
Significant new cases, including the first raft of post-Hotak appeals on vulnerability, the impact of ECHR Art 2 of the First Protocol (right to education) on out-of-area placements, the applicability of the Newham/Lewisham eviction cases to s193 accommodation, when an authority is entitled to re-open its own decision, and intentional homelessness
It also provides coverage of the separate development of homelessness law in Wales under the Housing (Wales) Act 2014 Part 2 and of the new Care Act 2014 regime. Contents include:


The policy of the provisions
The provisions in outline
Immigration
Homelessness
Priority need
Intentional homelessness
Local connection
Protection of property
Homelessness decisions
Discharge of duties
Allocations
Enforcement
Other statutory provisions
Strategy, practice, aid and advice
Criminal offences
Appendices include the key English legislative provisions in consolidated form and principal guidance. Chapter 12 includes a useful set of precedents for practitioners.
Homelessness and Allocations is essential reading for housing lawyers and advisers, local authority housing and homelessness officers and housing associations seeking authoritative, accurate and accessible guidance on local authority duties and the rights of the homeless.