LAG: Legal Aid Handbook 2018/19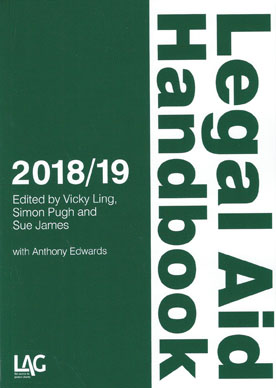 ISBN13: 9781912273003
Published: July 2018
Publisher: Legal Action Group
Country of Publication: UK
Format: Paperback
Price: Out of print

A comprehensive, single-volume guide to the complete legal aid scheme, the LAG Legal Aid Handbook 2018/19 is the one book no legal aid lawyer can afford to be without.
The civil and family sections have been fully updated in respect of the 2018 contract starting on the 1 September 2018. Anthony Edwards has also provided a comprehensive updating of the crime sections.
This edition brings on board a new co-editor Sue James, supervising solicitor at Hammersmith and Fulham Law Centre, who contributes a unique front-line perspective to the Handbook. New to this edition is a dedicated community care section, as well as a chapter on CCMS by Jane Pritchard that includes several 'workarounds' and tips that will save users time and minimise stressful situations. The civil and family costs chapter has been expanded by Paul Seddon and, as ever, LAG director Steve Hynes provides a round-up of the many policy developments in the legal aid world.
The LAG Legal Aid Handbook 2018/19 is packed full of case studies, checklists and practical tips. It provides clear and easy-to-follow guidance on the ever more complex legal aid system and is essential reading for everyone involved in legal aid from new caseworkers to experienced lawyers and managers.