Let Equity Prevail: Recollections and Reflections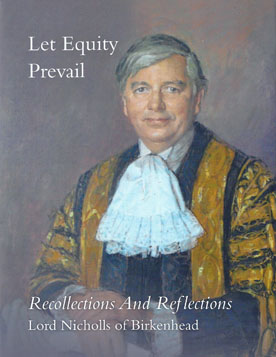 ISBN13: 9781911148012
Published: December 2015
Publisher: D&M Heritage Press
Country of Publication: UK
Format: Hardback
Price: Out of print

Lord Nicholls of Birkenhead, one of the leading law lords in the second half of the twentieth century, had a long and distinguished legal career.
Little did he think, when he left his Birkenhead school aged sixteen to work as a junior clerk in a Port Sunlight office, that one day he would play a significant role in the House of Lords modernising the law of this country in diverse legal fields.
A Second World War childhood, National Service, Liverpool University and Trinity Hall, Cambridge, all played their part in contributing to his legal and wider experiences. Financial considerations dictated his future career. Unable to afford the substantial premium then needed to obtain articles to a solicitor, he turned to the Bar and applied successfully for an entrance scholarship to the Middle Temple.
This gave him admission, otherwise beyond his reach, to the immensely competitive world of the Bar, with all its challenges and opportunities, later becoming a judge. His high profile decisions show the impact he was to have on the everyday life of many people as well as in areas of legal technicality: prohibition of the miners' strike in 1984, breaking fresh ground in 1998 by upholding the extradition of former president Pinochet, amplifying freedom of speech for the press in 1999, setting up a fairer regime for the division of property on divorce in 2000, to name but a few.
This book affords insight into the life and work of a judge in the different courts in which Donald Nicholls sat. It is not a legal textbook. It is an easy-to-read account of the extremely interesting life of a man whose application of the law, at whatever level, was governed by the words later adopted as his armorial motto Let Equity Prevail.