Standard Family Orders Handbook Volume 1: Financial and Enforcement 2nd ed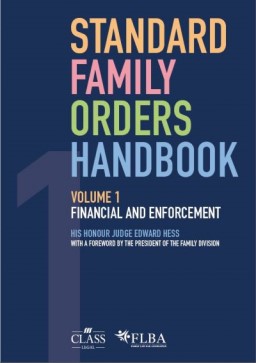 ISBN13: 9781859599372
Published: December 2020
Publisher: Class Legal
Country of Publication: UK
Format: Paperback, A4 Spiral Bound
Price: Out of print

The Standard Family Orders Handbook is the approved source of guidance to the official orders with a Foreword from the former president of the Family Division, Sir James Munby.
HHJ Edward Hess, Deputy National Lead Judge, Financial Remedies Courts, provides invaluable commentary on when and how to use each order, with a brief description of its purpose. The text of the orders is also interwoven with useful practice points from HHJ Hess where relevant.
In addition, the colour coding in the approved orders has been reproduced so that you can easily see what to amend when drafting your orders.
This second edition contains the latest version of each order, with all the revisions necessitated by the amended FPR 2010 Rule 9.27 (which significantly changed the way costs should be dealt with) and the new FPR Part 37 and PD 37A, together with fully updated commentary from HHJ Hess where relevant.