30 Years of Legal Scholarship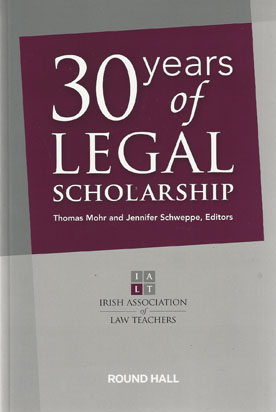 ISBN13: 9781858006260
Published: November 2011
Publisher: Round Hall Press
Country of Publication: Ireland
Format: Paperback
Price: £169.00

Despatched in 3 to 5 days.
The Irish Association of Law Teachers (IALT) was established in 1979 in order to advance legal education and scholarship on the island of Ireland. The three decades since the establishment of the Association have constituted the most intense period of scholarship within the entire span of Irish legal history.
This work provides an outline and analysis of the changes that have shaped Irish legal scholarship over this period of time. The book includes contributions from leading figures in Irish legal scholarship. It is divided into three parts: Irish legal scholarship, Irish legal education and analyses of legal scholarship in important subject areas of Irish law.
The first part, concerning Irish legal scholarship, includes essays by leading academics including Professor Brice Dickson; Professor Imelda Maher and Raymond Byrne. The second part of the book examines developments in Irish legal education and includes pieces from Dr Fidelma White and Dr Louise Crowley; Dr John Stannard and Lawrence Donnelly.
The majority of the chapters within this book relate to the third part. This concerns developments in scholarship in discrete areas of law over the past three decades. Contributors include Professor William Binchy, Professor Blanaid Clarke, Professor Colin Harvey, Professor W.N. Osborough, Professor Dermot Walsh and Professor John Wylie.