Judicial Reasoning in Tort Law: English and French Traditions Compared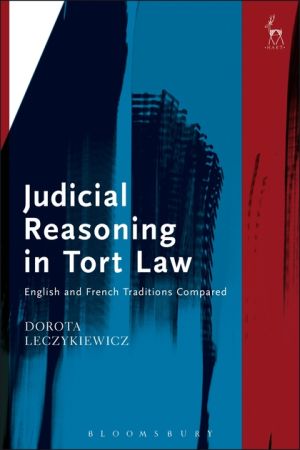 ISBN13: 9781849462433
To be Published: January 2022
Publisher: Hart Publishing
Country of Publication: UK
Format: Hardback
Price: £55.00

The book examines the practice of judicial reasoning in Tort law, understood as a process of justification, consisting of both deductive and non-deductive elements, and therefore involving a significant element of choice or discretion.
The book divides the elements of judicial reasoning into four conceptual categories: factual assessments, application of legislative and judge-made rules, reliance on reasonableness, and policy considerations. To discuss these elements in a comparative perspective the book uses the English and French judicial traditions of Tort law as case studies. This enables the author to present a range of methods of establishing facts, drawing inferences, using legal sources and relying on policy arguments. By closely examining selected Tort judgments from both jurisdictions, the book elucidates the phenomenon of law-making through adjudication in both a non-codified and a codified system of liability. It offers a reflection on different approaches legal systems may adopt to the importance in the process of judicial justification of such issues as certainty and truth, common sense, consistency with previous judicial decisions and policy.
The book connects the choice of approaches in judicial reasoning in Tort law with its procedural and institutional context.