Litigation PR: A Practical Guide to Managing Reputations in Legal Disputes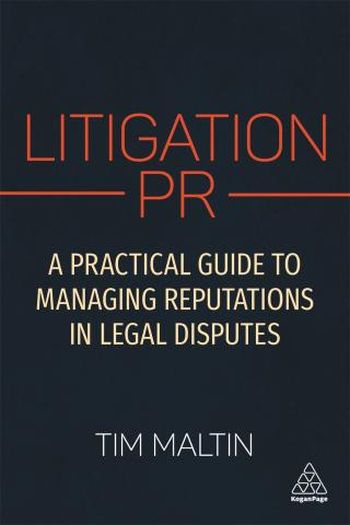 ISBN13: 9781789667332
To be Published: February 2022
Publisher: Kogan Page Ltd
Country of Publication: UK
Format: Paperback
Price: £39.99

Become an expert in one of the newest, most dynamic branches of PR, and develop the skills to manage reputations during legal disputes through key communication processes.
Often pure legal advice is at odds with pure PR advice, so litigators increasingly need a good feel for the balance between the priorities of the law and reputation management, just as specialist litigation PR experts must understand the legal reporting restrictions, the finer details of the case and the client's wider objectives. Written by a recognized legal expert, Litigation PR is an essential handbook for PR and communications professionals to this unique and challenging area.
Highly practical in approach, Litigation PR emphasizes the importance of building and maintaining a compelling narrative that appeals to the press while still serving their legal aims. Featuring numerous fascinating international case studies, it gives clear guidance on establishing a communications strategy that will act as an anchor throughout the entire litigation process, from first claim to judgement day. It will also help all PR practitioners work in harmony with litigators and clients to ensure that reputational damage is contained, and that the client will win in the court of public opinion regardless of what happens in the courtroom.