The Red Book: The Family Court Practice 2020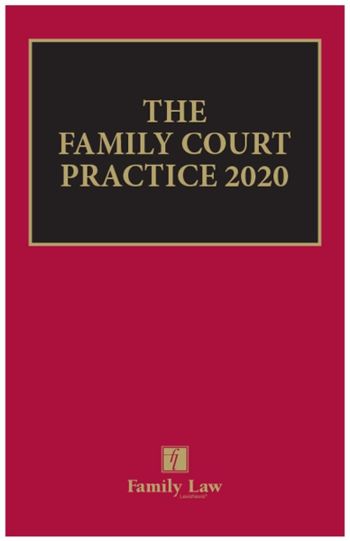 ISBN13: 9781784734510
Published: May 2020
Publisher: Family Law LexisNexis
Country of Publication: UK
Format: Hardback
Price: Out of print

The Family Court Practice (Red Book), covers the entire range of family business and contains all the essential materials you need to practise in the Family Court. The new edition is fully updated to include the latest case-law, full coverage of new and amended legislation, Practice Directions and guidance. It also contains fully and expertly annotated statutes and rules together with scores of unique step-by-step procedural guides, which direct you effortlessly to the relevant rules and annotation.
What's new for 2020:
Fully updated Procedural Guides; plus new guides in respect of criminal committal, and review applications where a change of circumstances is alleged following the making of a care order
All recent legislative developments (eg the availability of civil partnership to heterosexual couples)
The latest amendments to the FPR and supplementary Practice Directions, including enhanced commentary in respect of FPR Part 9 and the expansion of the Financial Remedy Court system
The latest updates to the CPR, including coverage of the CPR Pt 57/PD57C procedure in respect of the Guardianship (Missing Persons) Act 2017
Detailed analysis and practical guidance on all recent case law and key procedural developments in the areas of divorce, civil partnership, private/public child law, financial provision, enforcement and appeals
Important guidance issued by the President of the Family Division (eg. The Financial Remedies Courts Good Practice Protocol Guidance on Reporting Restriction Orders)...