Joint Ventures and Shareholders' Agreements 5th ed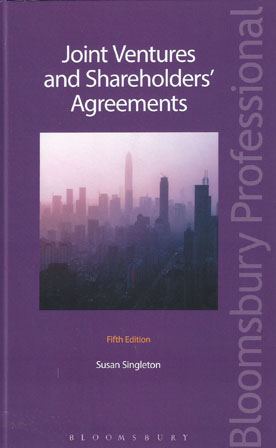 ISBN13: 9781784516925
Published: September 2017
Publisher: Bloomsbury Professional
Country of Publication: UK
Format: Hardback + Online Access
Price: Out of print

Joint Ventures and Shareholder's Agreements is an authoritative guide to the law and practice in this core area of corporate law.
Distinctly practical and accessible in style, the book features case studies, precedents and checklists. The expert knowledge and insight enables users to identify the central issues involved in joint venture transactions, take effective instructions and draft good documentation using the precedents provided.
Joint Ventures and Shareholder's Agreements advises on how to structure and negotiate joint ventures and shareholders' agreements for any type of private company, whether with corporate, individual or institutional investors or a combination of these. It offers practical tips, highlights the key commercial considerations and provides time-saving flowcharts and checklists which are invaluable when drafting agreements.
Designed specifically to be a working guide, this unique text delivers guidance, insight and expert knowledge ensuring that the user has the advantage in any joint venture transaction, by enabling them to:
Determine the key issues involved<
Take effective instructions
Draft good documentation using the precedents provided
The new edition includes the following updates and changes:


Company law developments including the Small Business, Enterprise and Employment Act 2015 and its provisions and the official guidance relating to the new register of Persons of Significant Control (PSC Register)
Latest tax rates and changes including to corporation and capital gains tax 2016/17 and changes to entrepreneurs' relief
EU merger law changes including the mergers simplification package and UK merger law changes.