Primary EU Law and Private Law Concepts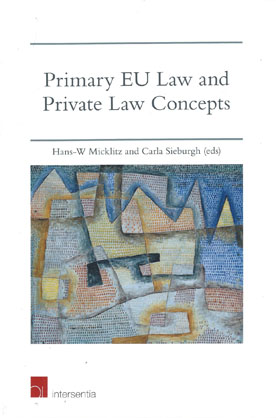 ISBN13: 9781780684529
Published: August 2017
Publisher: Intersentia Publishers
Country of Publication: UK
Format: Paperback
Price: £75.00

Usually despatched in 1 to 3 weeks.
This volume has for its theme the interplay between and influence exerted on approaches and legal concepts of private law, including property rights law, by primary EU law, particularly internal market law.
The starting hypothesis is that the European Court of Justice has developed concepts in private law cases which are different in substance from the concepts which exist in the private law systems of the Member States. The project aims to present developments in present law of which EU lawyers and private lawyers generally are unaware.
It envisions to give ground-breaking analyses of private law concepts (the person, property, contract and tort and remedies) which are used, created or adjusted by the Court. Each analysis results from obtaining insights in the substantive meaning of the conceptual subjects addressed in the Court's case law, disconnected from national meanings of such concepts.
The direction of this analysis is from the cases to the concepts, not the other way around: the cases and the facts behind the cases are the starting point. The analyses try to avoid preconceptions based on national private law systems.
In addition to an introductory chapter offering broader contextual information, this volume is built around six contributions covering:
i) the free movement of goods (Articles 34 and 35 TFEU) and services (Article 56 TFEU)
ii) the free movement of capital (Article 62 TFEU) and the freedom of establishment (Article 49 TFEU)
iii) competition law (Articles 101 and 102 TFEU)
iv) State aid law (Articles 107 and 108 TFEU)
v) intellectual property law
The contributions and possible conclusions were extensively discussed in two workshops held at the EUI in Florence in 2013 and at the University of Nijmegen in 2014. The editors would like to thank A. Hartkamp and the late N. Reich, who encouraged and accompanied the project with their enthusiasm and deep knowledge and the ERC authorities.
This book will be useful for academics, practitioners and students interested in EU internal market law or the relationship between primary EU law and private law.