E-Commerce and Convergence: A Guide to the Law of Digital Media 5th ed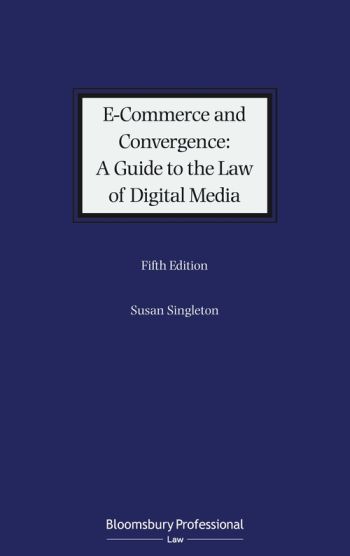 ISBN13: 9781526512659
Published: March 2021
Publisher: Bloomsbury Professional
Country of Publication: UK
Format: Hardback
Price: £150.00

Since the last edition the pace of technological change has stepped up even more than before with previous editions. New legislation is in force such as the General Data Protection Regulation (GDPR) and UK Data Protection Act 1998 and the 2019 Information Commissioner's investigations into this sector from Cambridge Analytica and Facebook to the ICO's very recent "Ad Tech" report looking at what has become known as "big data" and all the data gathered on line in lots of complex new ways.
Intellectual Property law in the ecommerce area has also changed. There is a very recently agreed new EU copyright directive which will have implications for news aggregation services and what can be copied to appear as a result on a google search. The 2010 EU vertical regulation and guidelines have recently been built on with the new EU "geo blocking" regulation and the related EU Commission's initiatives in relation to ecommerce in the anti-trust area.
Other updates include the recent ecommerce tax law changes as countries grapple with tax avoidance v. evasion issues of on-line commerce, jurisdiction for receipt of royalties and new rules on on line trading and VAT in the EU, Consumer Contracts (Information, Cancellation and Additional Charges) Regulations 2013 and the Consumer Rights Act 2015.