The Right to be Forgotten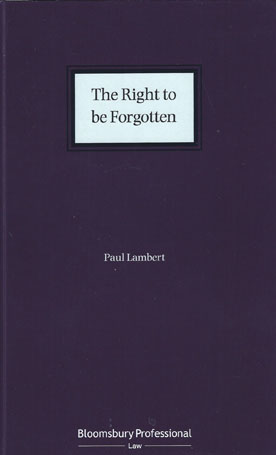 ISBN13: 9781526510105
Published: May 2019
Publisher: Bloomsbury Professional
Country of Publication: UK
Format: Hardback
Price: Out of print

The Right to be Forgotten is one of the most publicised areas of the GDPR and has received massive worldwide publicity following judicial and legal developments in Europe.
The book covers the Right to be Forgotten, Erasure and Forgetting, Data Protection, GDPR, Data Protection Act 2018 and Brexit. The Google Spain case received worldwide media attention and legal interest, and cases and disputes on the Right to be Forgotten are increasing. There are currently no dedicated books on the subject and this book fills the resource gap.
The UK High Court has now decided on its first Right to be Forgotten Case, upholding the right to takedown and forgetting. The UK Information Commissioners Office (ICO) has also dealt with a number of Right to be Forgotten complaint cases. There will be many more cases in future. Claimants will seek to have materials and references taken down, while internet companies and media companies will seek to resist certain claims and seek to define the contested boundaries.
Brexit issues in relation to data protection and the Right to be Forgotten will be considered also as this is a relevant component and may affect some of the contours of this new and expanding legal right.