Gringras: The Laws of the Internet 5th ed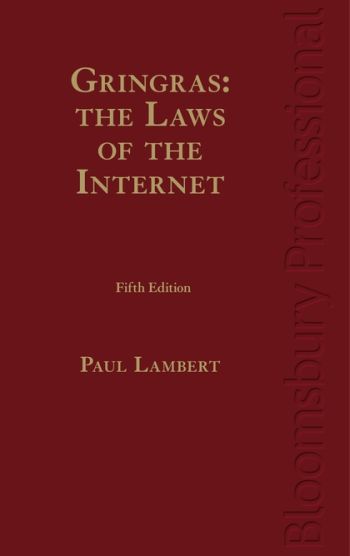 ISBN13: 9781526506320
Published: October 2018
Publisher: Bloomsbury Professional
Country of Publication: UK
Format: Hardback
Price: £205.00

The free flow of information and services around the world via the Internet constantly creates new issues and problems, such as rules of jurisdiction and applicable law, how new products and services should be regulated and many more.
Gringras: The Laws of the Internet Fifth Edition is updated with numerous new practical examples, cases (court cases and ICO complaint cases), laws and developments, including the following:
The new Data Protection Act
The GDPR
New data risks, breaches, penalties and fines
Data Protection Officers
Increasing emphasis on data, lifespan, harm, deletion and forgetting
Pre-problem solving new and proposed internet and tech applications, from processes, audits, impact assessments, data protection by design, etc.
Intellectual property developments, in particular trade marks and copyright
Revenue and tax developments
eCommerce and mCommerce
new online crimes and offences (including online threats and abuse), and relevant caselaw
there are also associated tort law developments included
many new competition related developments have occurred since the previous edition and are set out in detail
there is increasing policy and legal debate in relation to the potential need for new regulation of certain internet related activities.