The Law of Solicitors' Liabilities 4th ed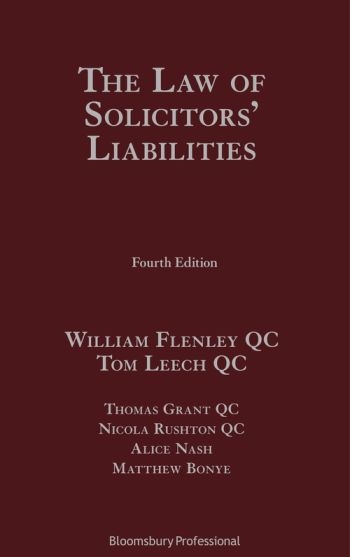 ISBN13: 9781526505293
Published: August 2020
Publisher: Bloomsbury Professional
Country of Publication: UK
Format: Hardback
Price: £185.00

Solicitors' Negligence and Liability provides a comprehensive guide to all aspects of solicitors' negligence, liability in equity and wasted costs. Written by leading practitioners in the field, it deals with a variety of topics, from general principles to specific situations, providing practical guidance to the procedural aspects of bringing and defending a claim for solicitors' negligence.
The fourth edition includes:
A new chapter on insurance law focusing on a number of key topics which arise, particularly in relation to solicitors' insurance: aggregation; condonation; definition of private legal practice; notification; possibly successor practice rules.
A new section aimed at people who run solicitors' firms, covering: Establishing and terminating a retainer; Reducing scope of liability, and moulding fiduciary duties, at the start of the retainer; Money laundering, including due diligence on clients; Terms and conditions; Cross referencing to identity fraud in other chapters.
Updated case law to cover all recent Supreme Court and Court of Appeal decisions, eg Hughes-Holland v BPE (Supreme Court) scope of duty and extent of damages; Redler v AIB (Supreme Court): breach of trust; Lowick Rose v Swynson (Supreme Court): lifting the corporate veil in claims against professionals; Tiuta International v de Villiers (Court of Appeal): lenders' claims, impact of a remortgage on damages; Wellesley v Withers (Court of Appeal): test for remoteness of damage; and E Surv v Goldsmith Williams (Court of Appeal): implied duty on solicitors in lenders' claims.
Regulatory/disciplinary developments, eg revised SRA Code of Conduct.