The World of Maritime and Commercial Law: Essays in Honour of Francis Rose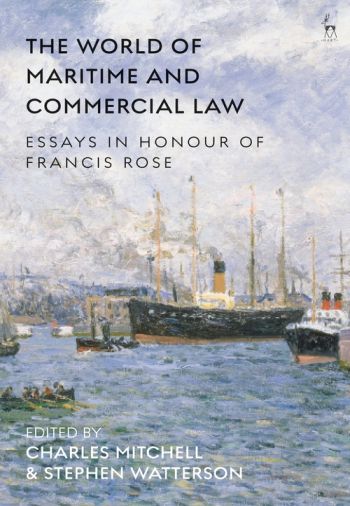 ISBN13: 9781509932429
Published: April 2020
Publisher: Hart Publishing
Country of Publication: UK
Format: Hardback
Price: £120.00

This collection of 20 essays contains recent work by legal scholars, practitioners and judges, all internationally renowned for their expertise in the fields of maritime and commercial law.
For maritime lawyers, the book contains absorbing and important studies of the law governing maritime collisions, carriage of goods by sea (examining the meaning of 'actual carriage' in the Hamburg Rules, and the complex web of rules that governs multimodal carriage), and marine insurance (discussing the history of the doctrine of utmost good faith, and jurisdiction clauses in cargo policies).
In the area of private international law, there are chapters on the choice of law rules affecting the ownership of ships, and on recent cases where conflict of laws issues have been decided by the Privy Council.
For generalist commercial lawyers, there is a wealth of scholarship on the Sale of Goods Act 1979, its provisions and scope, and on the rules of contractual interpretation, their history, content and application in commercial settings.
In addition, there are chapters on negotiating damages for breach of contract, illegality, tracing misapplied funds, the application of private law rules to disputes about cryptocurrencies and developments in the law of directors' duties.
Taken as a whole, the essays in this collection stand out for their breadth of scholarship, analytical power, depth of understanding, and penetrating insights even into the knottiest problems of maritime and commercial law. They are essential reading for every maritime and commercial lawyer and a fitting tribute to a scholar who has led the way in both fields for many decades.