Schreber's Law: Jurisprudence and Judgment in Transition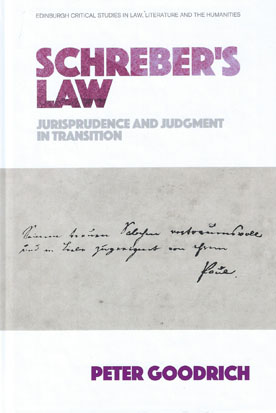 ISBN13: 9781474426565
Published: July 2018
Publisher: Special offer (limited stock)
Country of Publication: Scotland
Format: Hardback
Special Offer: £19.99
(Usual price £75.00)
Daniel Paul Schreber (1842–1911) was a senior German judge and jurist. He formulated a unique juridical theology of private life and developed a critical account of oikonomia, the practice of governance and administration.
But his theoretical work was largely ignored due to his mental illness and his desire to be a woman in a time inhospitable to transitions. Now, Schreber's Law looks beyond Judge Schreber's mental health to his reappraise his distinguished contribution to legal theory.
Peter Goodrich evaluates Schreber's jurisprudence by analysing his Memoirs of my Nervous Illness (1903) and his interpreters in detail, and sets his work in the context of both the neo-Kantian pure science of fin de siècle German jurisprudence and 21st-century legal theory.
In this way, Goodrich shows how Schreber's work challenges the legal thought of his era and opens up a potentially vital approach to contemporary jurisprudence.
Key Features
The first legal analysis of the Memoirs of Judge Schreber
An exemplary case study of the intersection of psychoanalysis and jurisprudence
A novel account of the pathology in law and the originality of a highly symptomatic juridical theology
Reinstates and emplaces Schreber's jurisprudence in a modern context of legal philosophy