Arnold-Baker on Local Council Administration 13th ed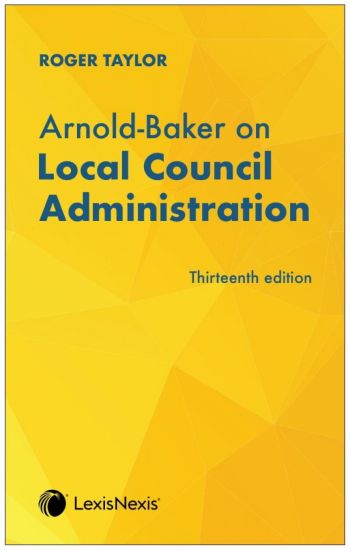 ISBN13: 9781474323307
Published: October 2022
Publisher: LexisNexis Butterworths
Country of Publication: UK
Format: Paperback
Price: £164.99

Arnold-Baker on Local Council Administration has long been established as the guide to this specialist field of local government law. Among local councillors it is often referred to as 'the bible'. It is a complete statement of the law relating to parish and community councils through an extensive, though succinct, narrative accompanied by relevant statutory materials.
It covers everything from parish and manorial history to the laws, both old and new, now governing local councils. All aspects are explored in a user-friendly style. It also includes appendices of relevant statutes and statutory instruments.
The 13th edition of this popular book has been comprehensively updated to cover the many changes to law and practice with direct application to local councils since the previous edition in 2020 including content on VAT and Wales.
This is a key text for parish and community councils, local authorities and solicitors practising in local government and public/administrative law. The author, Roger Taylor, is a leading authority in this complex area of law, with over 40 years' experience. He currently heads the Town, Parish and Community Council team at Wellers Hedleys Solicitors.
What's New
Fully updated to include the most recent and up-to-date information regarding legislative and government departments
New chapters on both Finance and Audit
Extensive updating of the sections relating to Welsh Information