Banks on Sentence 2022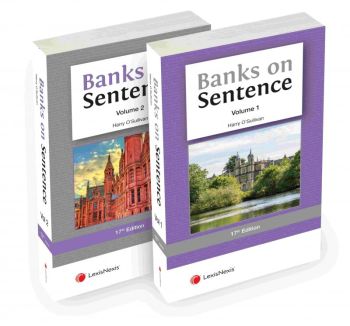 ISBN13: 9781474323017
Published: April 2022
Publisher: LexisNexis Butterworths
Country of Publication: UK
Format: Paperback, 2 Volumes
Price: Out of print

Banks on Sentence>/i> is the definitive sentencing guide. It is used by judges, barristers and solicitors for sentencing hearings in the Magistrates' Court, Crown Court, Courts Martial and the Court of Appeal
Volume 1 sets out the sentencing powers available to the Courts. It contains all relevant material to set complex and overlapping legislation in context. It includes procedure to be applied in sentencing hearings, including applications for behaviour orders and appeal hearings.
Volume 2 contains all the relevant guidelines, cases and sentencing material to enable judges, magistrates and practitioners to determine the sentence for almost all commonly prosecuted offences.
Banks is the most comprehensive coverage of sentencing available. It offers substantial case authority material to assist where no sentencing guideline exists. Where guidelines do exist, Banks provides judicial guidance on the meaning and application of the terms used in a given guidance.
The 17th Edition includes:
Counter-Terrorism and Sentencing Act 2021
Domestic Abuse Act 2021
Amendments to maximum sentences brought about by the Animal Welfare (Sentencing) Act 2021
Updated Sentencing Council Guidelines for Assault offences, attempted murder and importation of firearms; updated guidance for animal cruelty offences
R v Gould on use of Courts Act 2006 s 66 as a mechanism for correcting errors in sending and committal
R v Xue on assessing harm in offences of grievous bodily harm
R v Reed, Bennett and Others on child sexual offences where no sexual activity in fact occurs
Criminal Procedure Rules 2020, as amended by Criminal Procedure (Amendment No 2) Rules 2021 and Criminal Procedure (Amendment) Rules 2022