Jeremy Hutchinson's Case Histories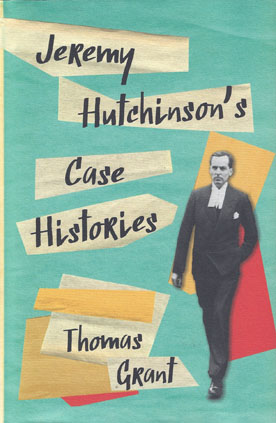 ISBN13: 9781444799736
Published: May 2015
Publisher: John Murray
Country of Publication: UK
Format: Hardback
Price: £25.00 - Reprinting

Wildy's Book of the Month: June 2015
Born in 1915 into the fringes of the Bloomsbury Group, Jeremy Hutchinson went on to become the greatest criminal barrister of the 1960s, '70s and '80s. The cases of that period changed society for ever and Hutchinson's role in them was second to none.
In Case Histories, not a Biography in the traditional sense, Thomas Grant examines Jeremy Hutchinson's most remarkable trials, in the 1960's, 70's and 80's, each one providing a fascinating look into Britain's post-war social, political and cultural history.
Accessibly and entertainingly written, Case Histories provides a definitive account of Jeremy Hutchinson's life and work. From the sex and spying scandals which contributed to Harold Macmillan's resignation in 1963 and the subsequent fall of the Conservative government, to the fight against literary censorship through his defence of Lady Chatterley's Lover and Fanny Hill, Hutchinson was involved in many of the great trials of the period.
He defended George Blake, Christine Keeler, Great Train robber Charlie Wilson, Kempton Bunton (the only man successfully to 'steal' a picture from the National Gallery), art 'faker' Tom Keating, and Howard Marks who, in a sensational defence, was acquitted of charges relating to the largest importation of cannabis in British history. He also prevented the suppression of Bernardo Bertolucci's notorious film Last Tango in Paris and did battle with Mary Whitehouse when she prosecuted the director of the play Romans in Britain.
Above all else, Jeremy Hutchinson's career, both at the bar and later as a member of the House of Lords, has been one devoted to the preservation of individual liberty and to resisting the incursions of an overbearing state. Case Histories provides entertaining, vivid and revealing insights into what was really going on in those celebrated courtroom dramas that defined an age, as well as painting a picture of a remarkable life.
'Throughout a long career, [Jeremy Hutchinson's] brilliant and stylish advocacy achieved success in cases that looked unwinnable'
Helena Kennedy
'Jeremy was not just a good lawyer; he was fearless in standing up to judges. He was the most formidable advocate of the 1960s and '70s and he had a marvellous sense of mischief' Geoffrey Robertson
Jeremy Hutchinson's Case Histories reminds us of the celebrated, and infamous, cases in which Hutchinson appeared, the skills he deployed, and the importance of the criminal defence advocate to the rule of law. Reheated recollections of old cases rarely make for a tasty dish. But the ingredients of Hutchinson's casebook are exceptionally delicious, and Grant's recipe and presentation are irresistible . . .
...One of the merits of this entertaining collection of Jeremy Hutchinson's greatest hits is that the authentic sound of the great advocate can be heard again, loud and clear . . . Thomas Grant ensures that we understand Lord Hutchinson's achievements and the importance of the principles of criminal defence advocacy to a free society David Pannick QC