Corporate Takeover, Management Discipline and the Law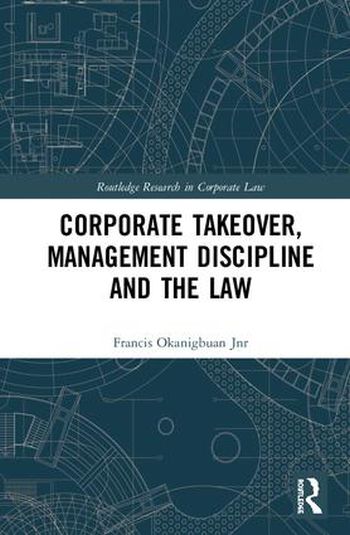 ISBN13: 9781138600027
Published: December 2019
Publisher: Routledge
Country of Publication: UK
Format: Hardback
Price: £120.00

Despatched in 4 to 6 days.
This book examines the effectiveness of corporate takeovers.
The dominant ideologies of corporate takeovers include synergistic gains and its managerial disciplinary role. These dominant themes are being undermined by the challenges of costly acquisitions. The UK Takeover Code is a regulatory response to the role of managers of target companies only. Also, the regulatory framework for takeovers in the United States is largely focused on target companies. The book demonstrates that managements can influence the role of takeovers, thereby undermining its synergistic and disciplinary values. Presenting an identification and evaluation of the limits of current regulatory and judicial control over the role of management during takeovers in the UK and the US-Delaware, it will identify the relevance of institutional control as an effective mechanism for addressing the challenges of managerial influence over takeover functions. It will also identify how the role of managements can be addressed with the complementary benefit to shareholder and employee interests; thereby challenging the shareholder/ stakeholder primacy debate in corporate law, particularly in relation to takeovers.
This book will be essential reading for scholars and students interested in the market for corporate control, corporate law and company law.