Land Registration Manual 2nd ed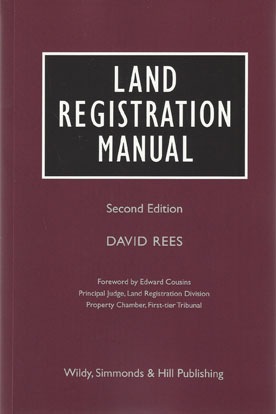 ISBN13: 9780854901296
Published: November 2013
Publisher: Wildy, Simmonds and Hill Publishing
Country of Publication: UK
Format: Paperback
Price: Out of print

Written by an author who has extensive experience in private practice, the Land Registry, and the academic sector, and is current joint author of Ruoff & Roper – Registered Conveyancing, Land Registration Manual is a concise but authoritative source of technical and practical advice on all matters relating to registered land and interests affecting it.
The book's alphabetical (A to Z) approach allows practitioners to zoom in on the specific topic they are dealing with, knowing that the book will provide useful background commentary, along with clear guidance on the form and content of relevant Land Registry applications, which are specific to that topic.
The topics are geared to aspects of day–to-day practice rather than areas of law as such – making it easy to use and more relevant to busy practitioners, enabling you to come up with the answer(s) you need, rather than trying to 'fit' your practical problem into one or more broad sections of a book.
Land Registration Manual covers not only the usual subjects, but also many less frequently encountered topics which are often not covered elsewhere. Thus its coverage extends not only from transfers to leases, but from bare trusts to franchises; options to powers of attorney; and chancel repair to embankments and sea walls.
Each topic contains accurate commentary to aid understanding and clear guidance on the relevant applications which may need to be made to complete a transaction or protect a client's interests. This makes the book an invaluable 'one-stop' source of guidance for busy practitioners, from partners through to paralegals, and for students through to academics.
Now fully updated, to take account of all the changes in land registration law and practice
Includes Appendices containing all the current versions of the standard form restrictions and the prescribed lease clauses, along with a list of Land Registry forms and other useful information
Self-contained topics, each containing details of how to make relevant types of application – thus reducing 'cross-referencing' to a minimum.