Inns of Court: A Literary Excursion to the Inns of Court in London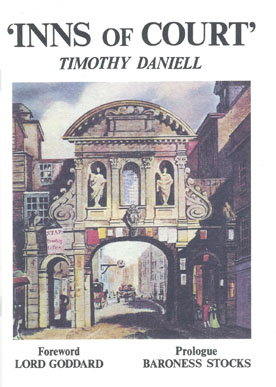 ISBN13: 9780854900190
ISBN: 0854900195
Published: December 1971
Publisher: Wildy, Simmonds and Hill Publishing
Country of Publication: UK
Format: Paperback
Price: £6.95

This book is intended for such and every visitor to the Inns of Court, come he by chance or design. Having come he must see and he must wander. This framework, a companion of facts and anecdotes, is designed to assist that wandering.
This is not an official publication-God forbid! The thoughts and opinions offered in the pages ahead are as unofficial as is my responsibility for them. This book is not an authority. Those who need fill their thoughts with the scholars are recommended to other works: Ptreant qui ante nos nostra dixerunt may those perish who have said our good things before us.
Lastly, thanks be to those whose help will remain my simple secret, gratia pro rebus meruo debttur inemptio thanks are worthily due for things unbought. They and the reader encourage this pen.
T.D. Gray's Inn, Easter Day, 1971