Canada's Chief Justice: Beverley McLachlin's Legacy of Law and Leadership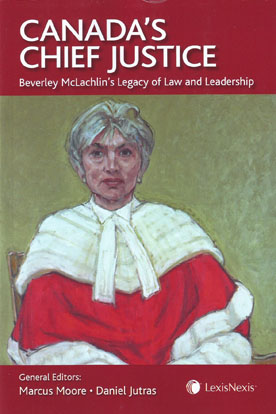 ISBN13: 9780433499114
Published: December 2018
Publisher: LexisNexis Canada
Country of Publication: Canada
Format: Paperback
Price: £112.00

This one-of-a kind tribute collection offers the scholarly perspective on the legacy and contributions of former Supreme Court of Canada Chief Justice Beverley McLachlin, by bringing together the thoughtful reflections of more than 30 expert observers of impressive pedigree and diverse personal and intellectual viewpoints, illuminating a wide range of aspects of the Chief Justice's legal journey.
The collection includes words of personal appreciation and accolades from former heads of the Canadian government and top leaders of the Canadian, American, French, and English bench, along with analytical papers reflecting on the Chief Justice's legacy and influence organized around four themes of recognition: Leadership, The Canadian Idea, Harmony, and Judicial Virtues.
The volume is filled with photos of key moments of Chief Justice McLachlin's life journey, and includes the full unedited transcript of an exclusive wide-ranging substantive interview with Her Honour. Plus, various resourceful tools including a bibliography of the Chief Justice's speeches made during her tenure (2000-2017) and judgments as a justice of the Supreme Court (1989-2018) accompanied by scholarly analysis.