The Politics of the Death Penalty in Countries in Transition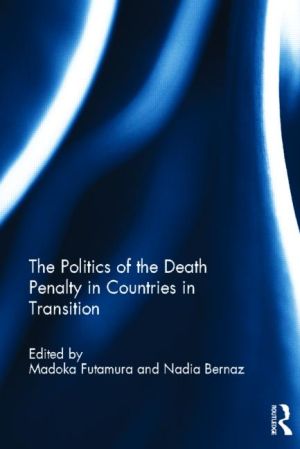 ISBN13: 9780415827393
Published: August 2013
Publisher: Routledge
Country of Publication: UK
Format: Hardback
Price: £125.00

Despatched in 3 to 5 days.
It is clear that despite international legal developments on capital punishment the death penalty remains a contentious issue, especially in countries that have experienced the worst forms of violence. Discussions on the death penalty are frequently part of transition processes, whether this leads to abolishing, reinstalling or simply retaining capital punishment. For countries emerging from conflict and/or authoritarian government, the death penalty policy seems to be not only a question of human rights but also closely tied to issues of order, security, governance and justice. The issues surrounding the death penalty seem to differ in transitional states, compared with established democracies, such as the United States and Japan, or non-democratic countries, such as China.
The book focuses on the political and legal issues raised by the death penalty in "countries in transition", understood as countries that have transitioned or are transitioning from conflict to peace, or from authoritarianism to democracy. The book seeks to understand various factors that shape decisions on the death penalty in countries in transition and analyses how policy decisions on the death penalty are shaped by transition processes and in what way they relate to and/or clash with other transitional agendas. The book provides the readers with case studies that have rarely been explored including Bosnia and Herzegovina, Rwanda, Sierra Leone, Cambodia, Iraq, South Korea, Argentina and countries in North Africa which have experienced the 'Arab Spring', exploring in detail how the politics of the death penalty are embedded in complex post-conflict or post-authoritarian state-building processes.