Democratic Sustainability in a New Era of Localism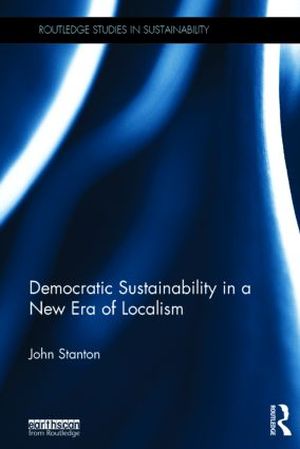 ISBN13: 9780415724838
Published: May 2014
Publisher: Routledge
Country of Publication: UK
Format: Hardback
Price: £125.00

Despatched in 4 to 6 days.
Over the course of the past two decades, a great deal of legislation and government policy has been introduced to facilitate reform of local government and local democracy in line with broader objectives relating to the sustainable development of deprived communities.
This book considers whether democracy enhances decision-making processes pertaining to the achievement of local sustainable development in England and how such decision-making might best be used to improve the achievement of sustainable development. It is retrospective in its analysis and prospective in its conclusions in that it seeks to draw from what has happened over recent years and offers possible ways in which local sustainable development might be improved in the future. The book gets to the heart of local governments' and local communities' achievement of sustainable development. It looks at local decision-making and local democracy and the structures within which they operate to ascertain their effectiveness in assisting in the achievement of local sustainable development and, also, considering ways in which they might be better utilised to improve the achievement of local sustainable development in the future.
The book uniquely draws from John Stanton's own 'action research' during which the author had access to key primary sources some of which were otherwise unpublished. It provides up-to-date insights on local government to include consideration of the Localism Act 2011 and the localism policies surrounding it, enabling wider discussion as to the current importance of the area; it also explores recent regeneration initiatives and the Big Society. The book is aimed at legal academics, with relevance also to students in law, environmental politics and sustainable development, as well as those working in government policy and political practice.