Indigenous Peoples and the Law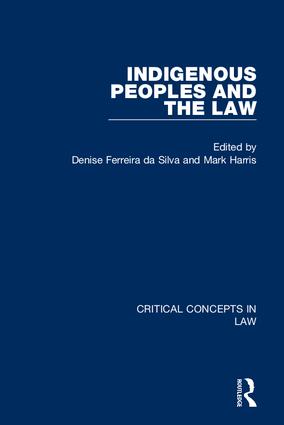 ISBN13: 9780415640213
Published: February 2019
Publisher: Routledge
Country of Publication: UK
Format: Hardback, 4 Volumes
Price: £925.00

Despatched in 4 to 6 days.
Despite the fact that the appropriation of land and resources of the so-called New World necessarily involved the dispossession and exploitation (and, sometimes, genocide) of the original inhabitants of colonized nations, it was not until the late twentieth century that Indigenous Peoples attained any meaningful degree of legal recognition in both national and international spheres. Until then Indigenous Peoples (also known as 'First Nations' and 'First Peoples') were routinely denied any form of juridical identity.
Research in and around Indigenous Peoples and the Law is now very wide-ranging and flourishes as never before. But much of the relevant literature remains inaccessible or is highly specialized and compartmentalized, so that it is difficult for many of those who are interested in the subject to obtain an informed, balanced, and comprehensive overview. This new four-volume collection meets the need for an authoritative anthology to make sense of the subject's vast and dispersed literature and the continuing explosion in research output. Drawing on a wide variety of materials from a broad range of disciplines and theoretical approaches, the collection gathers canonical and cutting-edge major works in a 'one-stop' resource to enable users to understand how the law Indigenous Peoples encounter has been transformed from an oppressive, rights-denying system to a site of contestation and for the articulation of claims.
The collection includes a full index and is supplemented by introductions to each volume, newly written by the editors, which place the gathered materials in their historical and intellectual context. Indigenous Peoples and the Law is an essential reference work which will be valued as a vital resource by students, scholars, policy-makers, and practitioners.