Colinvaux's Law of Insurance 13th ed with 1st Supplement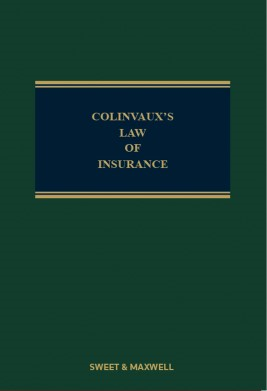 ISBN13: 9780414117754
Published: August 2023
Publisher: Sweet & Maxwell Ltd
Country of Publication: UK
Format: Hardback
Special Offer: £620.00
(Usual price £620.00)
For comprehensive and clear guidance on insurance contract law you need Colinvaux's Law of Insurance. Divided into three parts, the first section covers the key principles of insurance contracts including terms and conditions, loss and the limits on recovery, causation, subrogation and the notification of claims.
Additional sections focus on the different parties involved and the unique features of special types of insurance contract in the UK, such as liability policies. The commentary expertly examines rights and issues and is supported with analysis of the most recent and significant case law.
The first of the annual supplements updates the 13th edition, published in 2022, with the very latest decisions and legislative developments. The first annual supplement was published in August 2023.
Features:
Extensive commentary on the construction of insurance policies to help explain issues such as risk, utmost good faith, insurable interest, the premium, claims and loss.
Addresses the roles of the different parties involved, including intermediaries, as well as the regulation of insurers.
Looks at nine special types of insurance contract: reinsurance, life and accident, property, liability, third party, motor vehicle, financial, marine and war risks.
Sets out the rules governing insurance contract wording and phrasing.
Includes a dedicated chapter on the rights of insurers.
Discusses the insolvency of insurance companies and relevant proceedings, as well as the protection of policyholders.
Analyses the most important cases, legislation and regulation.
Provides an international dimension with analysis of significant Commonwealth decisions that are affecting the English courts.
Supplemented annually to ensure the text is always up to date.