Tudor on Charities 11th ed (Book & eBook Pack)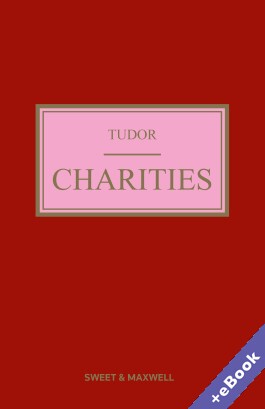 ISBN13: 9780414099432
To be Published: November 2022
Publisher: Sweet & Maxwell Ltd
Country of Publication: UK
Format: Book & eBook Pack (ProView)
Special Offer: £392.50
(Usual price £462.00)
The sale of some eBooks are restricted to certain countries. To alert you to such restrictions, please select the country of the billing address of your credit or debit card you wish to use for payment.
Sale allowed in
Anguilla
,
Antigua and Barbuda
,
Aruba
,
Austria
,
Bahamas
,
Barbados
,
Belgium
,
Bermuda
,
Bulgaria
,
Cayman Islands
,
Croatia
,
Cuba
,
Cyprus
,
Czech Republic
,
Denmark
,
Dominica
,
Dominican Republic
,
Finland
,
France
,
Germany
,
Gibraltar
,
Greece
,
Grenada
,
Guadeloupe
,
Guernsey
,
Guyana
,
Haiti
,
Hungary
,
Ireland
,
Italy
,
Jamaica
,
Jersey
,
Latvia
,
Liechtenstein
,
Lithuania
,
Luxembourg
,
Malta
,
Martinique
,
Montserrat
,
Netherlands
,
Poland
,
Portugal
,
Puerto Rico
,
Romania
,
Saint Kitts and Nevis
,
Saint Lucia
,
Saint Vincent and the Grenadines
,
Slovakia
,
Slovenia
,
Spain
,
Sweden
,
Trinidad and Tobago
,
Turks and Caicos Islands
,
United Kingdom
,
Virgin Islands (British)
,
Virgin Islands (U.S.)
Sorry, due to territorial restrictions applied by the publisher we are unable to supply this eBook to United States.
This leading work on the law of charities, written by expert practitioners, has been completely updated to take account of all the changes in legislation and case law since the supplement to the previous edition was published in 2018.
Some of the key recent developments covered include:
The Charities Act 2022, implementing most of the Law Commission's recommendations in its 2017 report, Technical Issues in Charity Law.
A large number of judicial decisions, on issues such as the duties of members of a charitable company limited by guarantee and the court's power to direct such a member in the exercise of their voting powers; the scope of permissible discrimination in the provision of benefits by a charity under the Equality Act 2010; mandatory relief from non-domestic rates and the public benefit requirement; the meaning of "charity proceedings" under the Charities Act 2011, s.115; whether a charitable trust was created over land acquired by a local authority; and charity trustees' powers of investment, in particular whether trustees are bound to exclude investments that conflict with their charitable purposes.
Expanded coverage of standing to bring claims to establish the existence of charitable trust, and the common law of standing to bring claims for breach of charitable trust.
Enhanced coverage of various descriptions of charitable purpose, including the advancement of religion and the advancement of education.
New sections on charity trustees' duties to operate charities to advance public benefit, and trusts in general terms of the benefit of a locality/country.
Expanded discussion of the courts' relative leniency to charity trustees.