The Intellectual Property Enterprise Court: Practice and Procedure 3rd ed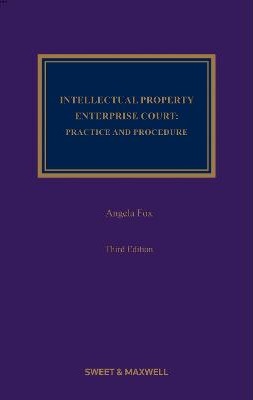 ISBN13: 9780414080935
Published: November 2021
Publisher: Sweet & Maxwell Ltd
Country of Publication: UK
Format: Hardback
Price: £269.00

This title is your comprehensive guide to the practice and procedure of the Intellectual Property Enterprise Court – dedicated exclusively to the inner workings of the court. This invaluable text ensures you have the very latest rules to hand and are current with the most recent procedural changes when litigating in the IPEC.
The third edition sees a number of significant updates, including:
Commentary on Brexit-related procedural changes.
The impact of amendments to the law on unjustified threats.
Part 36 and indemnity costs in the IPEC's capped costs regime.
The latest rules governing statements of truth, witness statements, routes of appeal, costs awards, default judgment, and more.
Latest amendments to the practice direction on pre-action conduct.
It is designed to provide you with all the practical guidance you need to navigate the court and is structured clearly and logically to help outline the most appropriate options for cost-effective dispute resolution. It is now available in print, as an eBook and on Westlaw UK, meaning it has never been easier to access the advice you need.
Key features of this title include:
Covers pre-action matters and considerations to help determine if the IPEC is the right forum for your case.
Examines the issuance of proceedings to illustrate the key differences between the IPEC and the High Court.
Takes a detailed look at the principles of case management and conduct restrictions, making it essential reading for litigants.
Includes the rules on pre-action correspondence.
Goes through the application procedure and principles relating to specific disclosure, including the claim form, statements of truth, and particulars of claim.
Discusses trial conduct and the rules of appeals, remedies, and enforcement.
Explores the developing case law on costs and the reforms to Part 36.
Addresses the IPEC's costs rules and the cap on recoverable costs.
Explains the small claims track and examines the eligibility of claims, proceedings, costs, and the appeals process.
Additional commentary provides a history of the IPEC and its jurisdictional coverage.
Looks at the administrative procedures for domain names and company names.
Appendices which include diagrams of the schedule of costs, practice directions, sample statements of case, draft codes of practice for pre-action conduct, the IPEC Small Claims Guide, and more.