Mental Health Act Manual 23rd ed (Book & eBook Pack)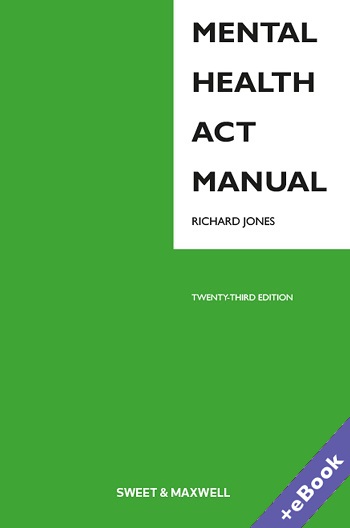 ISBN13: 9780414078987
Published: July 2020
Publisher: Sweet & Maxwell Ltd
Country of Publication: UK
Format: Book & eBook Pack (ProView)
Price: Out of print
The amount of VAT charged may change depending on your location of use.
The sale of some eBooks are restricted to certain countries. To alert you to such restrictions, please select the country of the billing address of your credit or debit card you wish to use for payment.
Sale allowed in
Anguilla
,
Antigua and Barbuda
,
Aruba
,
Austria
,
Bahamas
,
Barbados
,
Belgium
,
Bermuda
,
Bulgaria
,
Cayman Islands
,
Croatia
,
Cuba
,
Cyprus
,
Czech Republic
,
Denmark
,
Dominica
,
Dominican Republic
,
Finland
,
France
,
Germany
,
Gibraltar
,
Greece
,
Grenada
,
Guadeloupe
,
Guernsey
,
Haiti
,
Hungary
,
Ireland
,
Italy
,
Jamaica
,
Jersey
,
Latvia
,
Liechtenstein
,
Lithuania
,
Luxembourg
,
Malta
,
Martinique
,
Montserrat
,
Netherlands
,
Poland
,
Portugal
,
Puerto Rico
,
Romania
,
Saint Kitts and Nevis
,
Saint Lucia
,
Saint Vincent and the Grenadines
,
Slovakia
,
Slovenia
,
Spain
,
Sweden
,
Trinidad and Tobago
,
Turks and Caicos Islands
,
United Kingdom
,
Virgin Islands (British)
,
Virgin Islands (U.S.)
Sorry, due to territorial restrictions applied by the publisher we are unable to supply this eBook to United States.
Mental Health Act Manual is an essential guide to the Mental Health Act 1983. A crucial insight tool for any professional working in mental health law, this specialist work reproduces the Act and its associated Rules and Regulations with annotations by Richard Jones.
New to this edition:
Coronavirus Act 2020
The temporary amendments made to the Act by 2020 Act are noted throughout the text.
Reference is made to Practice Directions and guidance that have been issued subsequent to the pandemic.
Also included are the amendments made to the Tribunal Rules by the Tribunal Procedure (Coronavirus) (Amendment) Rules 2020.
Cases
PS v R where the Court of Appeal considered the proper approach to sentencing offenders who suffer from autism or other mental health conditions.
JK v A Local Health Board and A Healthcare; B NHS Trust v CC, cases where Lieven J. considered the correct interpretation of s.63 of the Act.
AD'A v Cornwall Partnership NHS Trust on the Tribunal's jurisdiction where the patient's legal status changes.
SLL v Priory Heath Care and Secretary of State for Justice on the meaning of the "treatability test".
PM v Midlands Partnership NHS Foundation Trust on whether treatment is "available" for a CTO patient.
Re D (A Child) where the Supreme Court held that it is not within the scope of parental responsibility for parents to consent to a placement which deprived their 16 or 17 year old child of his or her liberty
SB v South London and Maudsley NHS Foundation Trust where the patient wished to change the legal representative that had been appointed for him by the Tribunal.
Other developments
An updated version of the Law Society's Practice Note on "Representation before mental health tribunals" is reproduced.
A consideration of whether electronic signatures can be used on statutory forms is included.
Extracts from Government guidance on "Transfers between Hospitals in England and Wales" are reproduced.
Key features:
Written in a clear, practical style, designed to be accessible to both the medical and legal profession
User-friendly style: primary and secondary legislation is annotated in the Parts with the analysis of important contextual aspects of mental health law located in the Annexes
Readers benefit from the expertise and advice of one of the most highly respected individuals in the field
Includes all the relevant primary and secondary legislation on mental health law with detailed annotations
An annotated version of the Mental Health Units (Use of Force) Act 2018 is reproduced.
Explains the impact of the 2007 Act, detailing how each section of the MHA 1983 has been affected.
Provides guidance on the Code of Practice.