Mental Health Act Manual 22nd ed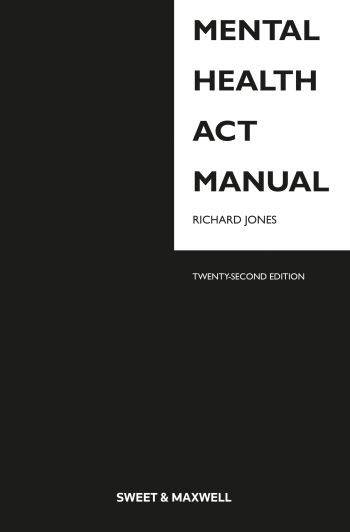 ISBN13: 9780414072497
Published: September 2019
Publisher: Sweet & Maxwell Ltd
Country of Publication: UK
Format: Paperback
Price: Out of print

Mental Health Act Manual is an essential guide to the Mental Health Act 1983. A crucial insight tool for any professional working in mental health law, this specialist work reproduces the Act and its associated Rules and Regulations with annotations by Richard Jones.
New to this edition:
Legislation
An annotated version of the Mental Health Units (Use of Force) Act 2018 is reproduced.
Case Law
VS v St Andrew's Healthcare where the Upper Tribunal identified the test of capacity required by a patient to make an application to a tribunal.
Griffiths v Chief Constable of Suffolk Police where it was held that an AMHP was not negligent when deciding not to contact the patient's nearest relative in a situation where a decision had been taken not to make an application under s.2 in respect of the patient who went on to commit murder.
An NHS Trust v Y on the inability of a Code of Practice to create a legal obligation.
R. v Rendell on the differences in the legal regimes for release on life licence and for release on a restriction order.
Atudorei v Romania on when a person may be considered to have been "detained" for the purposes of art.5(1) of the European Convention on Human Rights.
Guidance
The recall of conditionally discharged restricted patients (Ministry of Justice).
Discharge conditions that amount to deprivation of liberty (HM Prison and Probation Service)
Authority to use medical leave (Ministry of Justice and HM Prison and Probation Service)
Commentary
Revisions to the commentary have been made in a number of areas including:
The interpretation of the "five year rule" in s.26(7) of the Act.
The power to detain a patient in the community after an application to detain him has been completed.
The "Who pays? guidance as it applies to s.117 of the Act.
Key features:
Written in a clear, practical style, designed to be accessible to both the medical and legal profession
User-friendly style: primary and secondary legislation is annotated in the Parts with the analysis of important contextual aspects of mental health law located in the Annexes
Readers benefit from the expertise and advice of one of the most highly respected individuals in the field
Includes all the relevant primary and secondary legislation on mental health law with detailed annotations
An annotated version of the Mental Health Units (Use of Force) Act 2018 is reproduced.Explains the impact of the 2007 Act, detailing how each section of the MHA 1983 has been affected.
Provides guidance on the Code of Practice.