Wilkinson's Road Traffic Offences: 28th ed with 2nd Supplement (Book & eBook Pack)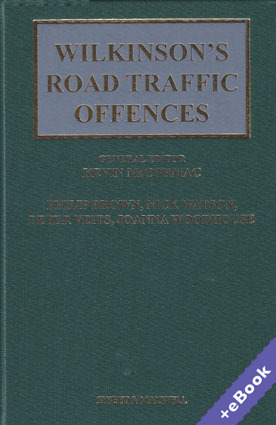 ISBN13: 9780414069541
Published: December 2018
Publisher: Sweet & Maxwell Ltd
Country of Publication: UK
Format: Book & eBook Pack (ProView)
Price: Out of print
The amount of VAT charged may change depending on your location of use.
The sale of some eBooks are restricted to certain countries. To alert you to such restrictions, please select the country of the billing address of your credit or debit card you wish to use for payment.
Sale allowed in
Anguilla
,
Antigua and Barbuda
,
Aruba
,
Austria
,
Bahamas
,
Barbados
,
Belgium
,
Bermuda
,
Bulgaria
,
Cayman Islands
,
Croatia
,
Cuba
,
Cyprus
,
Czech Republic
,
Denmark
,
Dominica
,
Dominican Republic
,
Finland
,
France
,
Germany
,
Gibraltar
,
Greece
,
Grenada
,
Guadeloupe
,
Guernsey
,
Guyana
,
Haiti
,
Hungary
,
Ireland
,
Italy
,
Jamaica
,
Jersey
,
Latvia
,
Liechtenstein
,
Lithuania
,
Luxembourg
,
Malta
,
Martinique
,
Montserrat
,
Netherlands
,
Poland
,
Portugal
,
Puerto Rico
,
Romania
,
Saint Kitts and Nevis
,
Saint Lucia
,
Saint Vincent and the Grenadines
,
Slovakia
,
Slovenia
,
Spain
,
Sweden
,
Trinidad and Tobago
,
Turks and Caicos Islands
,
United Kingdom
,
Virgin Islands (British)
,
Virgin Islands (U.S.)
Sorry, due to territorial restrictions applied by the publisher we are unable to supply this eBook to United States.
Wilkinson's Road Traffic Offences 28th edition, is now published as just one volume. A new edition will be reissued every two years and updated by two supplements.
The 2nd Supplement was published in December 2018
The 1st Supplement was published in June 2018
The Main Work was published in November 2017
Coverage includes:-
Detailed coverage and analysis (Including a flow chart) of the important decision in R. v Needham [2016] regarding the application of the extension period to a driving disqualification where the offender also receives an immediate custodial sentence.
Detailed coverage of the important decision in R. v Hassani [2017] (where the Court affirmed and restated the decision of the Chief Magistrate and Senior District Judge in R v Cipriani [2016]) giving extensive guidance in relation to the conduct of drink drive cases including case management at the first hearing, disclosure, expert witnesses and challenging the reliability of breath machines.
Coverage of the changes to the Magistrates' Courts Sentencing Guidelines and the new guidelines effective in 2017 including the guidance relating to driving whilst over the limit with drugs.
Detailed coverage of changes affecting the operation of the MIB scheme where a driver is uninsured or untraceable and of cases confirming the restriction on exclusions from insurance cover: Wastell v Woodward (Deceased) [2017]; R&S Pilling (t/a Phoenix Engineering) v UK Insurance Ltd [2017]; and R&S Pilling (t/a Phoenix Engineering) v UK Insurance Ltd [2017] and Oldham BC v Sajjad [2016]
Full updating following the implementation of the Traffic Signs Regulations and General Directions 2016
Coverage of the effect of the developing changes in mutual recognition of driving disqualification.
In-depth commentary on latest case law: R. v Taylor [2016] (Supreme Court decision on fault where a driving accident resulted in death); R. v. Beech [2016] (disqualifying passengers and requiring them to take an extended test); R. v. Brandford [2016] (duress); R. v. G [2016] (extending the scope of the 'slip rule' in the Crown Court);. R. v. Hamlett [2015] (the importance of properly assessing value before ordering forfeiture of a motor vehicle).
Coverage of sentencing cases on causing death by dangerous driving including: R v Gard [2017]; R v Barker [2017].
Coverage of sentencing cases applying further the guidance in Dewdney [2015] and Hussain [2015] on causing serious injury by dangerous driving including Taylor [2016] and Bruziene [2017].
The availability of self-defence in relation to a charge of dangerous driving: R v Tracey Riddell [2017]
Coverage of sentencing case on causing death by careless driving when under the influence of drink or drugs: R v Jolly [2016].
Note of relevant changes in the Criminal Procedure Rules 2015 (as amended) and the Criminal Practice Directions.
Updating of Appendix 2 (Endorsement Codes) and changes regarding fixed penalty amounts
Thomson Reuters ProView Also available as an eBook on Thomson Reuters ProView.