Hanbury & Martin: Modern Equity 21st ed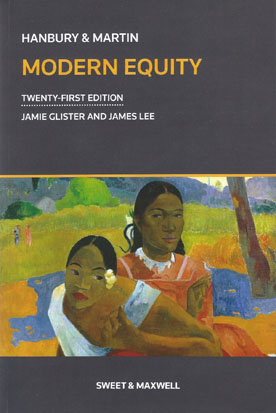 ISBN13: 9780414060371
Published: August 2018
Publisher: Sweet & Maxwell Ltd
Country of Publication: UK
Format: Paperback
Price: Out of print

Hanbury & Martin: Modern Equity is a leading title on equity and trusts law, providing an up-to-date and modern account of this challenging area of the law.
Now in its 21st edition, this long-standing work is the second edition under the current authors. The new edition contains rigorous analysis of the latest in case law and academic debate with strengthened reference to other common law jurisdictions. Cited by the Supreme Court of Canada, the Alberta Court of Appeal and the Singapore High Court, Modern Equity continues to be unparalleled in breadth and detail, remaining the authority on equity and trusts law.
New for the twenty-first edition
Comprehensive coverage of recent developments, including detailed analysis of key decisions of the United Kingdom Supreme Court such as Akers v Samba on formalities, Patel v Mirza on the defence of illegality, Angove's Pty Ltd v Bailey on constructive trusts, and PJS v News Group Newspapers on injunctions.
Careful engagement with the application of the law in lower courts across the field of trusts and equity.
Further reference to relevant case law from Australia, Canada, Hong Kong and Singapore.
Discussion of the impact of UK and European legislation relating to trusts, tax and transparency in the wake of political controversy over and media investigations into offshore tax havens (including the Panama and Paradise Papers).
Incorporation of legislative developments, including the Charities (Protection and Social Investment) Act 2016 and applicable finance and pensions legislation.
Assessment of Law Commission proposals in charity, pensions and succession law.