Charlesworth & Percy on Negligence 13th ed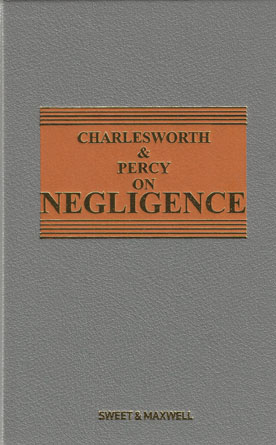 ISBN13: 9780414034235
Published: August 2014
Publisher: Sweet & Maxwell Ltd
Country of Publication: UK
Format: Hardback
Price: Out of print

The main authority on the law of negligence, and frequently cited in court, Charlesworth & Percy on Negligence covers both common law and statutory duty. The new 13th Edition has been reconsidered and where necessary revised in light of developments in the law.
Significant changes have been made to the structure of this title and it now contains several new features including:
Chapter Revisions
Combination of the chapters on Causation and Remoteness with a major re-writing of the text in relation to both.
Moving of the discussion of the practical aspects of proof to the start of the Damages chapter.
Important decisions in the Supreme Court:


Various Claimants v Catholic Care Society (Vicarious liability)
Jones v Kaney (Witness immunity)
Woodland v Essex CC (Non delegable duties of care)
Smith v Ministry of Defence (The extent of the doctrine of combat immunity)
Dunhill v Burgin (Capacity to litigate)
Key Court of Appeal decisions:


Chandler v Cape plc (Liability of a parent company for injury to the employee of a subsidiary)
Selwood v Durham County Council (Liability of an NHS Trust for injury to a third party inflicted by the patient of a doctor employed by the Trust)
Lambert v Barratt Homes Ltd (The duty of an occupier who becomes aware of a danger on his land which threatens his neighbour's property)
Charlesworth & Percy on Negligence
is the title that provides unrivalled depth of analysis of the torts of negligence and nuisance. It remains the number 1 title as it:


Sets out the general principles, covering duty of care, liability and causation
Deals with both the standard of care in different situations and areas where strict liability applies
Explains what remedies may be available, including damages
Focuses on both established areas and developing areas such as psychiatric injuries
Provides an essential reference for every negligence case whether it is to do with personal injury, property, or product liability
Helps you to establish whether a duty of care exists and if it has been breached, helping you to assess quickly and with confidence whether a cause for action exists
Updates you with new statutory duties which means you will know exactly how recent changes apply
Shows, through a detailed analysis of case law, how the principles work in specific situations and sets out the implications of new developments to help you take a view on your particular case
Covers UK and Commonwealth jurisdictions, letting you see how the law of negligence has been applied in multiple jurisdictions