Adjudication in Construction Law 2nd ed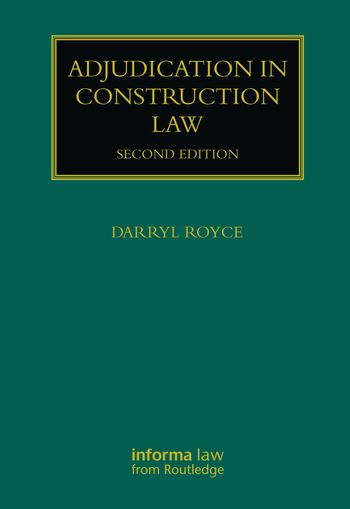 ISBN13: 9780367556396
To be Published: December 2021
Publisher: Informa Law from Routledge
Country of Publication: UK
Format: Hardback
Price: £345.00

This book collects all the relevant material regarding the process of adjudication in construction. It provides clarity for those involved in the adjudication process or related proceedings with detailed and reliable analysis of them supported by statutory provisions and judicial observations.
Adjudication in Construction Law discusses the role of 'true value' adjudications following smash and grab decisions on the basis of the absence of a pay less notice, the restraint of adjudication by injunction, hybrid contracts dealing with both construction operations and other operations, and timing and content of payment notices and pay less notices. Additionally, this book includes a summary of the different procedures adopted in other jurisdictions, as well as an explanation of the payment procedures under the statutory framework. It also goes on to append all the relevant statutory material, contractual adjudication procedures, and forms. A new feature of this edition is a detailed analysis and discussion of the development and of the 'rules' relating to the acceptability of a wrong answer provided that the right question has been dealt with, only one dispute being susceptible to adjudication and the necessity or otherwise of a dispute 'arising under' the construction contract.
A clear and comprehensive aid, this book is an essential read for lawyers or construction professionals involved in adjudication.